Good to know for your trip to Mexico
What time should you make calls home without ripping your loved ones out of their sleep at three in the morning? And what about your travel budget? What currency will you take with you? What do you need to know about the exchange of money? Can you pay with US dollars or euros n Mexico? Is there anything in particular that you should know when paying with a credit cardin Mexico? And can you quickly plug your smartphone into next socket when the battery is empty? Read about some important facts you should know.
1. Mexico time zones
Mexico has four time zones:
UTC-8 in Baja California
UTC-7 in Baja California Sur, Chihuahua, Nayarit, Sinaloa and Sonora
UTC-6 in the capital and the other states, with the exception of
UTC-5 in Quintana Roo (this is where Cancún and Playa de Carmen are located)
2. Mexico Local currency
Mexican Peso; 1 Peso = 100 Centavos
The current exchange rates for the Mexican peso can be found on the internet. (Currency)
3. Mexico Currency Exchange
In the touristic regions of Mexico, many providers accept major credit cards. There is a wide network of exchange offices and bank offices in these regions. Attention, you need to bring your passport for money exchange in Mexico!
In Mexico City und Cancun, the exchange of euros is no problem. In less developed areas, the US dollar might find better acceptance.
4. Paying in foreign currency in Mexico
Many Mexican providers also accept payments from tourists in US dollars or euros. This seems quite nice at first glance, but it is to be assumed that the offered exchange rate is too low and usually no change is available. So if you do not have the intention of leaving the full change as a tip, you should better consider bringing some mexican pesos with you.
5. Payments with credit cards in Mexico
Recently, in Mexico it has been common in some establishments – especially in restaurants – to accept credit card payments only if the card holder shows his passport. For this purpose, only the original passport and no copy is accepted. This approach is often announced by a small note in a rather inconspicuous corner of the location. If you do not want to walk around in Mexico with your passport all the time – which is not recommended – then you should rather rely on cash payments.
Even in the very well developed touristic regions many restaurants and bars do not accept credit cards. You should better take enough cash with you.
6. Mexico Banks
Some banks do not exchange foreign banknotes. Traveler's checks , exchange offices or ATMs might be a good alternative. However, the latter can sometimes be empty, and the bank card should be unlocked for your destination country by your home bank. Before you rely on the ATM in a foreign country, also ask your home bank for the fee they will charge for each payout.
Banks are usually open Monday-Friday from 9:00-16:00.
7. Mexico electricity outlets
In Mexico, the voltage in use is 110 V, 60 Hz. If your country is using a different electricity system, you might need an adapter with a flat plug, like they are used also for the United States.
Are you serious with your plans for a trip to Mexico? Then you might want to read about Health in your vacation.
#magicblueplanet #mexico #mexicotravel #visitmexico
---
Did you like this article? Pin it!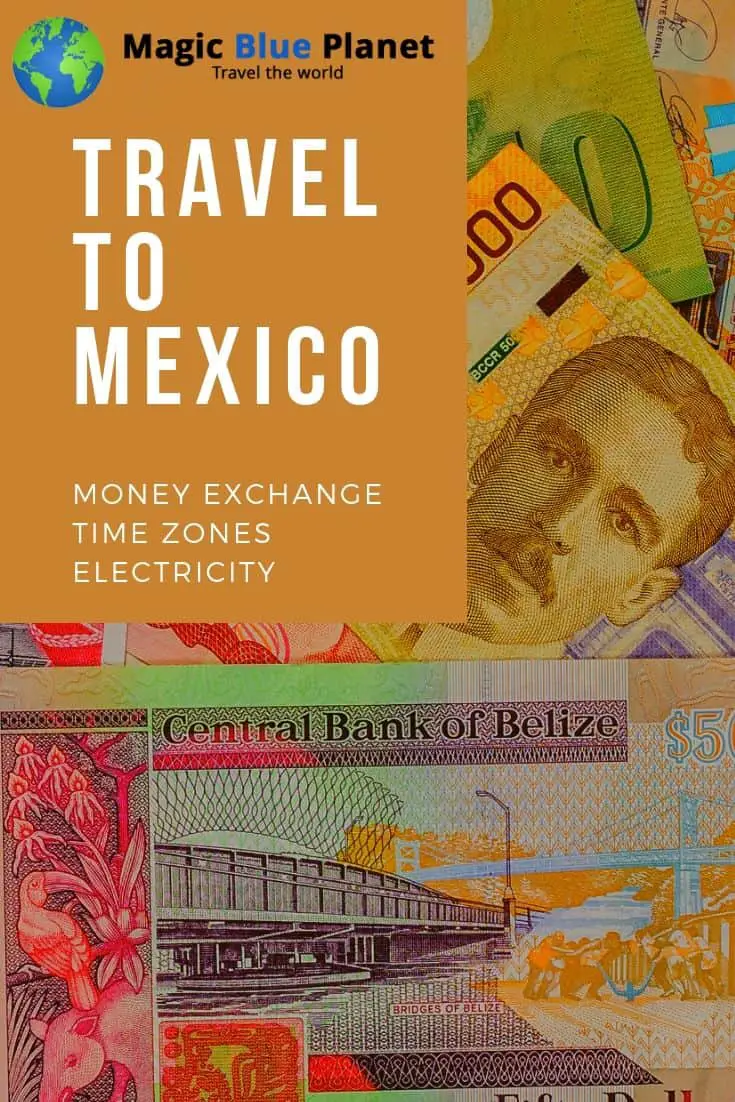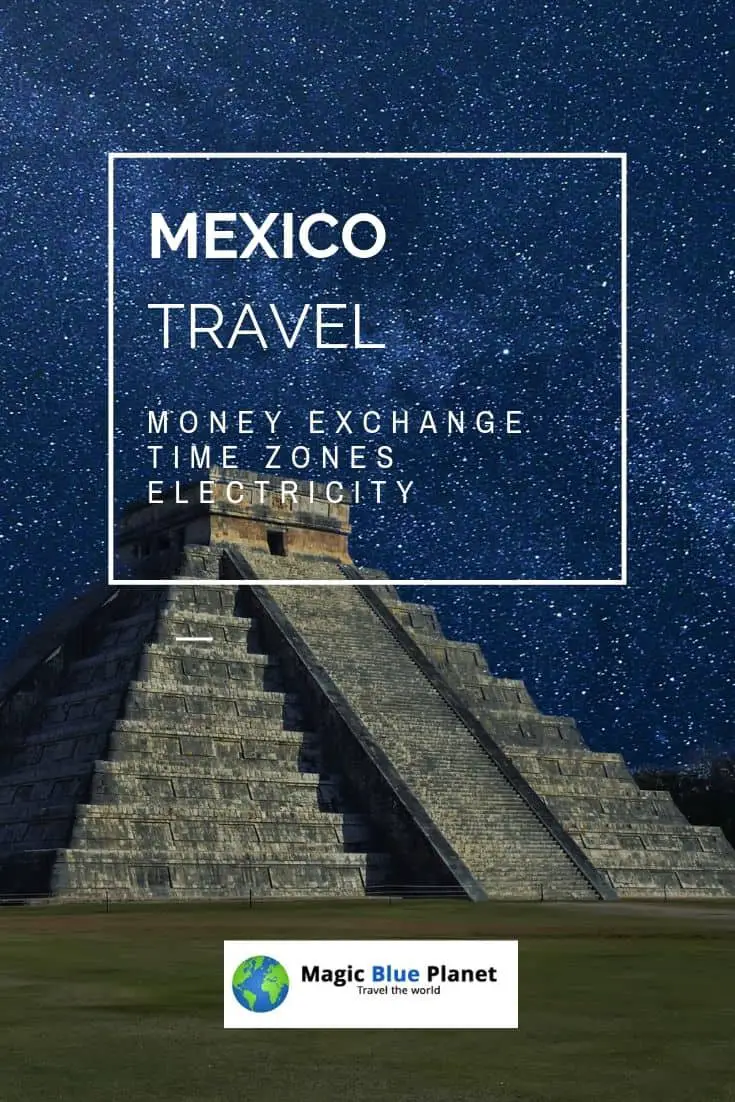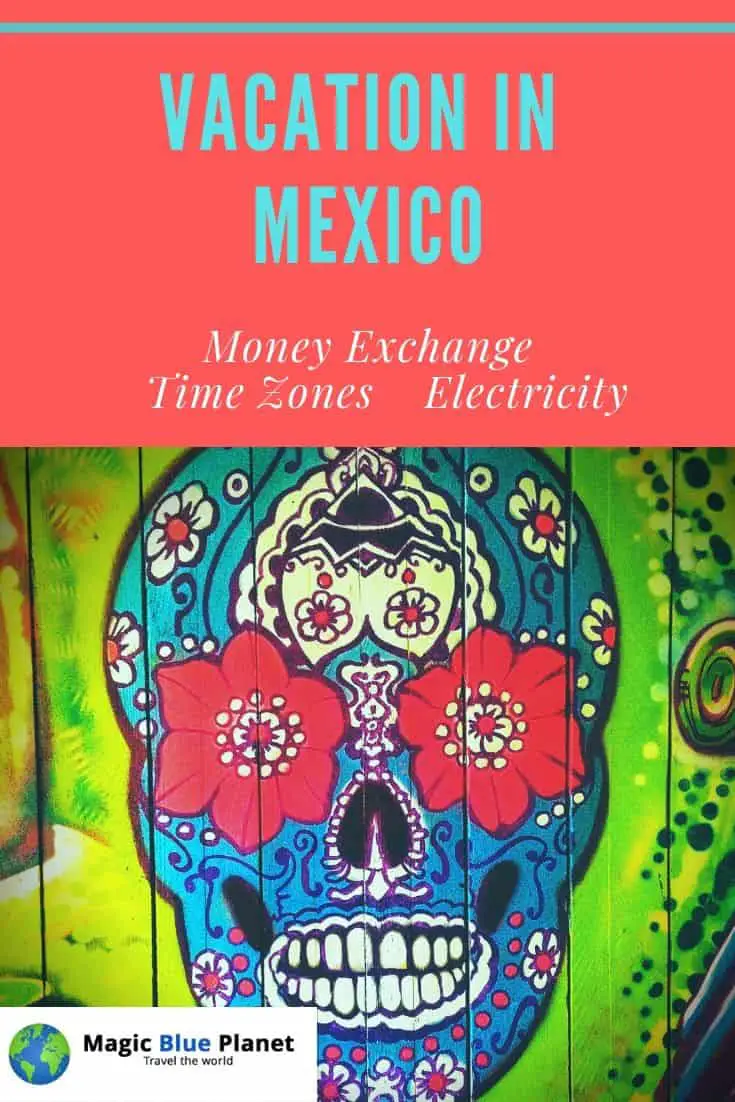 We are using affiliate links on our pages. If you purchase through these links, we receive a small commission without any extra cost for you. In some cases you even might get a discount.We appreciate your support!