You are absolutely right when you ask what there is to do in Akumal. After all, the small village on the Riviera Maya in Mexico is not necessarily world-famous for its sprawling nightlife. But don't worry! There is a lot to do and you can visit many interesting places nearby. And then there's the breathtaking beach. Once you've seen it, you probably won't want to leave it. Anyway, we have researched some exciting excursions for you.
Estimated reading time: 6 minutes
1. Snorkel with sea turtles
Akumal is famous for the sea turtles that live in the bay. On the beach of Akumal they lay their eggs, which are strictly protected until the baby turtles hatch and crawl into the sea. You can watch these rare animals while swimming or snorkeling. Especially early in the morning, when they graze seaweed at the bottom of the lagoon.
You can search for the turtles on your own, or let a guide take you directly to them. You can also book this tour online in advance.
2. Try delicious seafood
Do you like seafood? Then you should make good use of your time in the Caribbean! The nice restaurants in the village spoil you with freshly caught delicacies from the sea and delicious traditional Mexican dishes. A cool beer or refreshing margaritas provide the right supplement. A Must Have for Foodies.
3. Let the funny monkeys at Monkey Sanctuary make you laugh
Do you love animals? Then you're right here. In Akumal there is a very unique place, the Monkey Sanctuary. Rescued monkeys and other wildlife are offered a new life there. The animals were so affected by humans or other disasters that they could no longer remain in their natural habitat. They have found a new home in Akumal.
You can only visit the animals, or combine your trip to the monkeys with swimming in the Cenote Ma'ax, or a tour with an ATV. At the Monkey Sanctuary you won't just have an exciting day. Your visit also helps to secure the life of the animals. So, what are you waiting for?
For the locals of Quintana Roo there are special tours at the Monkey Sanctuary at half price. This is often common in Mexico, as many people would otherwise not be able to afford the activities in their own country. If you're one of the lucky residents of this paradisiacal Mexican state, just check the website of the Sanctuary to check the tours for locals. Residence must be proven for participation with official documents.
4. Explore Tulum and the Mayan Ruins
Tulum is very popular – and it is very close to Akumal. Therefore, you should not miss a visit. The Mayan ruins of Tulum are unique, no other Mayan city was built by the sea.
And then there's the small town of Tulum. The place is famous for its casual boho ambience. You can explore Tulum on your own, or simply take a guided tour by bike to all the sights.
5. Enjoy a shopping tour in Playa del Carmen
The fashionable city of Playa del Carmen is also not far from Akumal. Playa del Carmen is well known, not only for its beautiful beaches. Trendy boutiques, delicious restaurants and an animated nightlife have transformed the place into a lively holiday paradise. Especially the pedestrian zone "Quinta avenida" is a hotspot for everything that can be fun on holiday at any time of the day. Don't miss this.
6. Swim underground in Aktun Chen
Aktun Chen is a national park near Akumal where you can experience great things. There is a five million-year-old cave that was once used by the Maya for rituals. You can explore this cave and refresh yourself in its cenotes with a cool bath. Did you know that Aktun Chen's caves have been voted one of the "Top 10 Underground Walks" by National Geographic?
Also, an underground river awaits you in Aktun Chen. Swimming and snorkeling there is a unique experience. If you're fed up with the water, you should try the ten zip lines in the park. But you shouldn't have any fear of heights.
7. Pamper yourself with a massage at Buddha Garden Spa
Most major hotels in Mexico actually offer a spa area. But the Buddha Garden Spa is somehow a different world. It is located in a charming garden directly on the beach and offers a very special ambience. If you want to do something really good for yourself, then you are in good hands here.
8. Browse in Mexican arts
It wouldn't be Mexico if there wasn't a lot of craftsmanship to buy. But to be honest… my personal experience is that I can't get enough of it. Of course, you will also stumble upon a lot of colorful, beautiful or funny memories of Mexico in Akumal. Enjoy it! For art connoisseurs, it is also worth a visit to the Galera Lamanai, which is widely known for its exquisite exhibits.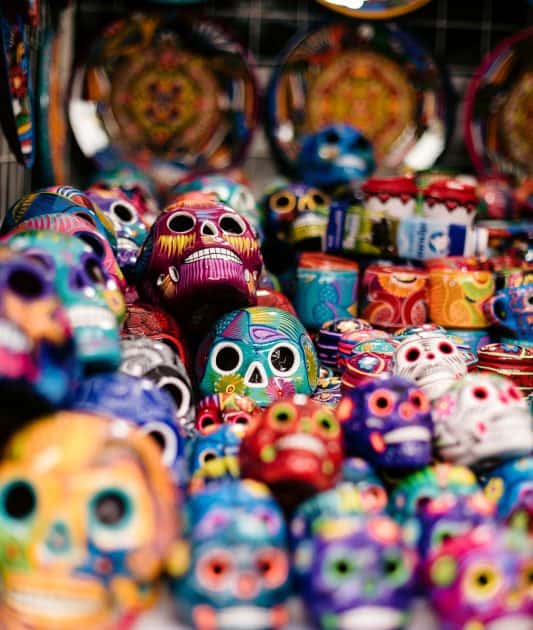 9. Discover the Yal-Ku Lagoon
Yal-Ku Lagoon is located in the north of Akumal Bay. There, fresh water mixes with the salty wet of the Caribbean Sea. The result: a unique ecosystemTurtles, tropical fish and rays ensure that snorkeling is definitely not boring.
Around the lagoon there is also a garden where you can rent shady resting places. Snacks and drinks are also provided. Besides, Yal-Ku is well suited for bird watching.
10. Climb the Mayan Pyramid of Cobá
On the Yucatan Peninsula there are many ancient cities of the Maya with breathtaking pyramids. But most have one thing in common – the pyramids are closed to visitors. That wasn't always the case and I was able to climb several more pyramids. I can remember very well how magical the view from the top of a Mayan pyramid felt.
At the time of writing this article, the Mayan Pyramid of Cobá may still be climbed. You should definitely try it. After that, you can explore Cobá and get enchanted by the history of the old city.
If you want to use the convenience of a guided tour, then here is the possibility to make an online reservation for Cobá. The excursion includes a lot of other highlights that you'll probably like.
As you see, you're definitely not going to get bored in Akumal. And then there is the beautiful beach, where you will certainly spend a lot of time. After all, that was the reason for your trip, wasn't it?

Recommendation
Of course, there are many more exciting tours and activities available for your trip. Check out GetYourGuide for a great variety of offers, excellent service and good prices. They also offer very fair conditions in case of cancellation or rescheduling.
#magicblueplanet #mexico #quitanaroo #mexicotravel #visitmexico #akumal
---
Did you like this post? Pin it!
We are using affiliate links on our pages. If you purchase through these links, we receive a small commission without any extra cost for you. In some cases you even might get a discount. We appreciate your support!