Puerto Morelos is an ideal place to go for those who want to spend a quiet beach holiday without all the glamour of Cancun or Playa del Carmen. The well-developed tourist resort offers a variety of amenities, but is small enough to be crossed from one end to the other in a walk of about 15 minutes. In the region, Puerto Morelos is nicknamed "La Joya del Caribe", the jewel of the Caribbean.
Estimated reading time: 5 minutes
What to expect
Puerto Morelos in the state of Quintana Roo is a small fishing village on the Riviera Maya, the Caribbean coast of Mexico. The village is located about 36 km south of Cancun, halfway between Cancun and Playa del Carmen. At the small dock downtown there are boats for snorkeling and sport fishing trips, while the larger yachts dock at the slightly more modern harbor in the south of the village.
The reef off the coast is part of the Mesoamerican Barrier Reef, the second largest reef in the world. It is part of a strictly protected nature reserve with great biodiversity and rare tropical fish, turtles and corals – a paradise for diving and snorkeling. Off the coast, extensive mangrove forests provide a home for hundreds of bird species, wildlife and plants such as orchids.
Climate: Pleasantly warm all year round at around 30°C / 80 °F, high humidity.
Rainy season & hurricane season: June – October. Mostly, however, only short but intense showers.
When to go: High season December – April.
Language: Spanish. Some locals speak English, but Spanish is always an advantage.
Currency: Mexican Peso. Some shops and restaurants also take American dollars, but due to the unfavorable exchange rate you are better off with Mexican cash.
---
Credit cards: Cards are not accepted everywhere. The best solution are Mexican pesos. In the district "La Colonia" there are several banks for changing and near the beach a CASH machine.
Security: Puerto Morelos is very safe for tourists. You can also walk around at night without worry if you know how to use your common sense. As everywhere else, however, you should pay attention to your valuables.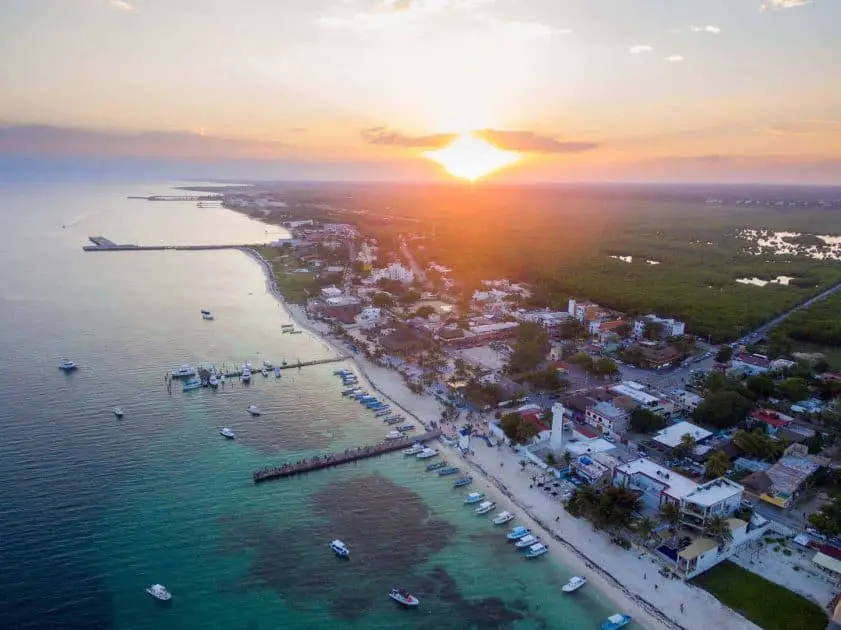 Puerto Morelos today: Cancun's quiet little neighbor
Puerto Morelos is a fishing village and tourist resort alike, but has retained its original charm compared to Cancun or Playa del Carmen. However, Puerto Morelos has also grown with tourism. The population of Mexicans, Americans, Canadians and Europeans has increased from just under 700 to more than 9,000 people since 1980.
Buildings in Puerto Morelos should not have more than three floors due to legal requirements in order to preserve the village charm of the place. The offer of boutique hotels, villas and holiday homes is complemented by many small restaurants, bars and shops for tourists who feel more attracted by their personal ambience than by tourist strongholds. A few minutes from the center there is also a small market where nice souvenirs, hammocks and local crafts are offered.
On the land side of highway 307 is a newer district of Puerto Morelos, which houses the homes of many locals. The Colonia Zetina Gazca, also called "La Colonia", offers small shops, pharmacies and restaurants, which are more focused on the needs of the locals and not aiming too much towards tourism.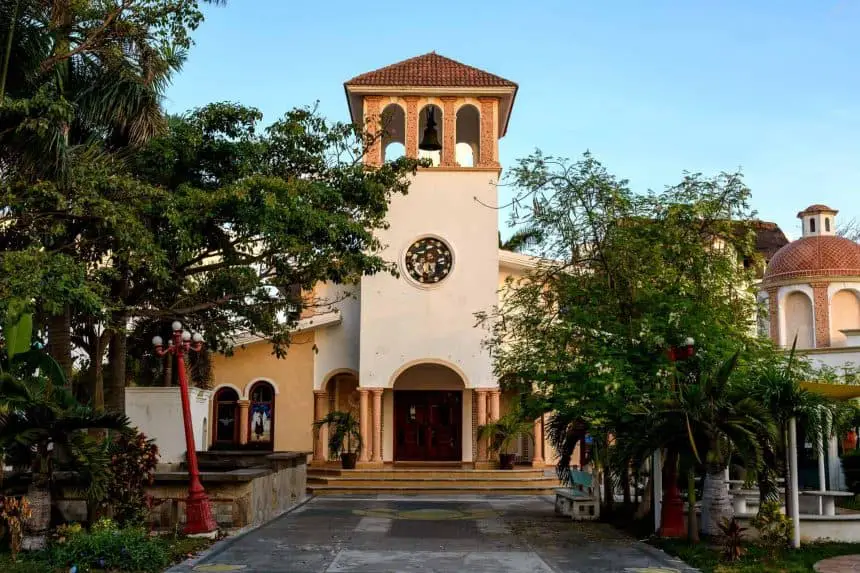 Puerto Morelos in the past: Blooming export harbor and source of chewing gum
Puerto Morelos was not always just a fishing village or a small town. At the beginning of the 19th century it was called Punta Corcha and was an internationally renowned export harbor for a highly sought-after luxury item – chewing gum. The ancient Maya are known to some for the discovery of the number zero and the chocolate. The same can actually be said of chewing gum.
There is a tree growing in the region, the so called Sapote tree. Its fruits are very tasty. And when his trunk is injured, he secretes a milky juice – the so-called Chicle. It is boiled and processed into an elastic mass. The Mayans have chewed this mass for dental care and oral hygiene.
When chewing gum became internationally fashionable in the 1920s, the Chicle harvest of the entire region was shipped via Puerto Morelos. Because the city had the only port on the Caribbean coast that was deep enough to allow even larger ships to dock. Puerto Morelos experienced an incredible boom during this time.
When synthetic products were used as a base for chewing gum in the mid-40s, Puerto Morelos has become quiet again. But the Chicleros, who walked alone through the jungle on their way to the trees, have also made history elsewhere. No one knew the jungle and its hidden secrets as they did. And for centuries they have helped researchers as guides, taking them to the ruins of ancient Mayan cities.
How to get there
The closest airport is in Cancun. If your hotel does not offer a pick-up service, you can take the public bus or a taxi at the airport. For taxis, you should always agree the fare with the driver before you get in. Optionally, you can also book a shuttle service online.
Getting around
Puerto Morelos is so small that you will be fine walking. If you are scheduling trips to the surro