If you're looking for the best all-inclusive hotels in Playa del Carmen, you're spoilt for choice. There are so many wonderful places. We recently spent a week at Allegro Playacar and would like to share our experience with you.
This article was created out of pleasure about our successful stay and was NOT paid. We were just there as normal guests.
Estimated Reading Time: 16 Minutes
Why Allegro Playacar?
I admit it openly – I've never been to an all-inclusive hotel before. I had always thought of this as a typical concept for classic tourists who are too comfortable to discover the world. I'm actually more of the type for individual travel and like to try a new restaurant for every meal and a new club for every night.
After the troubles of the pandemic, my partner has invited me to Mexico once again.  He knew my last vacation had been a while ago. And that's why he suggested a week of deep relaxation and pampering in the hotel zone of Playa del Carmen before we set off to explore Yucatan. Looking back, I can only say – the idea was brilliant.
Where exactly is Allegro Playacar All Inclusive Hotel in Playa del Carmen?
Allegro Playacar is not located directly in Playa del Carmen downtown. It is located just outside in the hotel zone "Playacar" – directly on a dreamlike, beautiful beach. And surrounded by a wonderful green garden. However, the center of town is within easy walking distance. The walk takes about 20-30 minutes.
The rooms at Hotel Allegro Playacar
The hotel offers a beautiful complex in a large, green garden. Many other hotels look more like apartment blocks from the outside. Even if in Playa del Carmen they are not built as high as in Cancún, they are still very expansive and give the impression of a big city from the outside. But it is precisely this impression that you would rather escape on a beach holiday, wouldn't you?
At Allegro Playacar, rooms are housed in small bungalows. The cottages have a thatched roof and look very inviting. Everything blends beautifully into the green garden. And with eight rooms per bungalow, the ambience just remains quite cozy and private.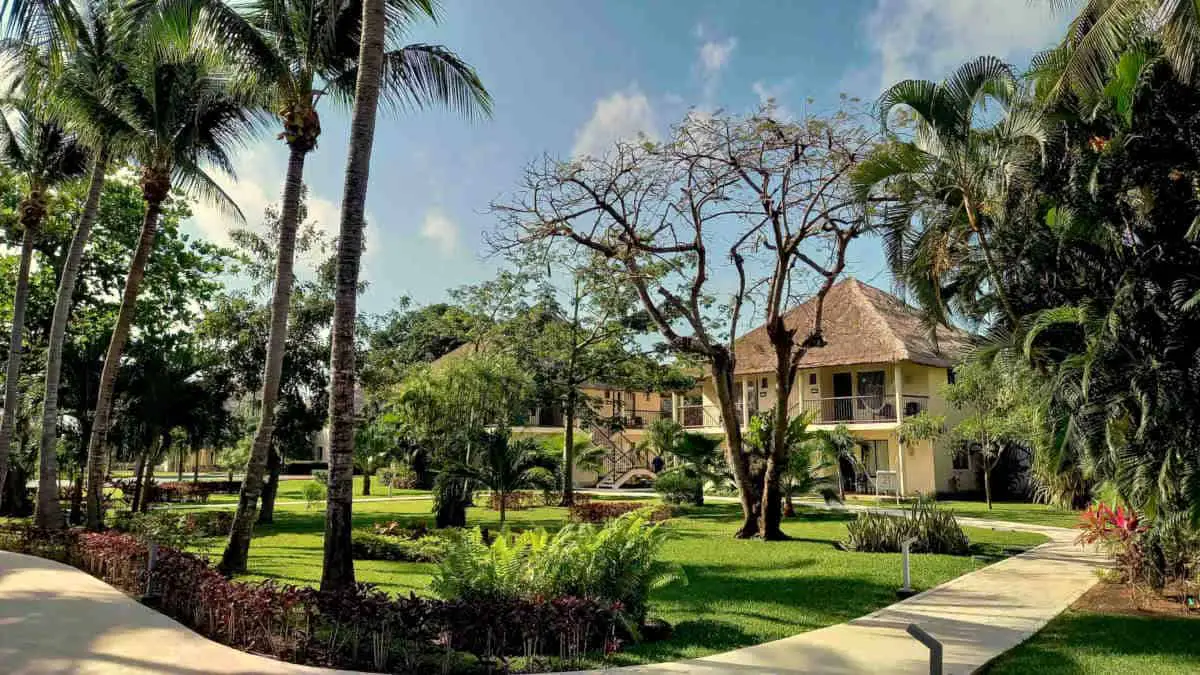 The rooms are pleasant and very clean. Large windows let in the natural light and air conditioning ensures pleasant temperatures. Bathrooms are small but well maintained. For fresh air fans like me, it is also brilliant that the rooms can be well ventilated. A refrigerator and a safe were also provided.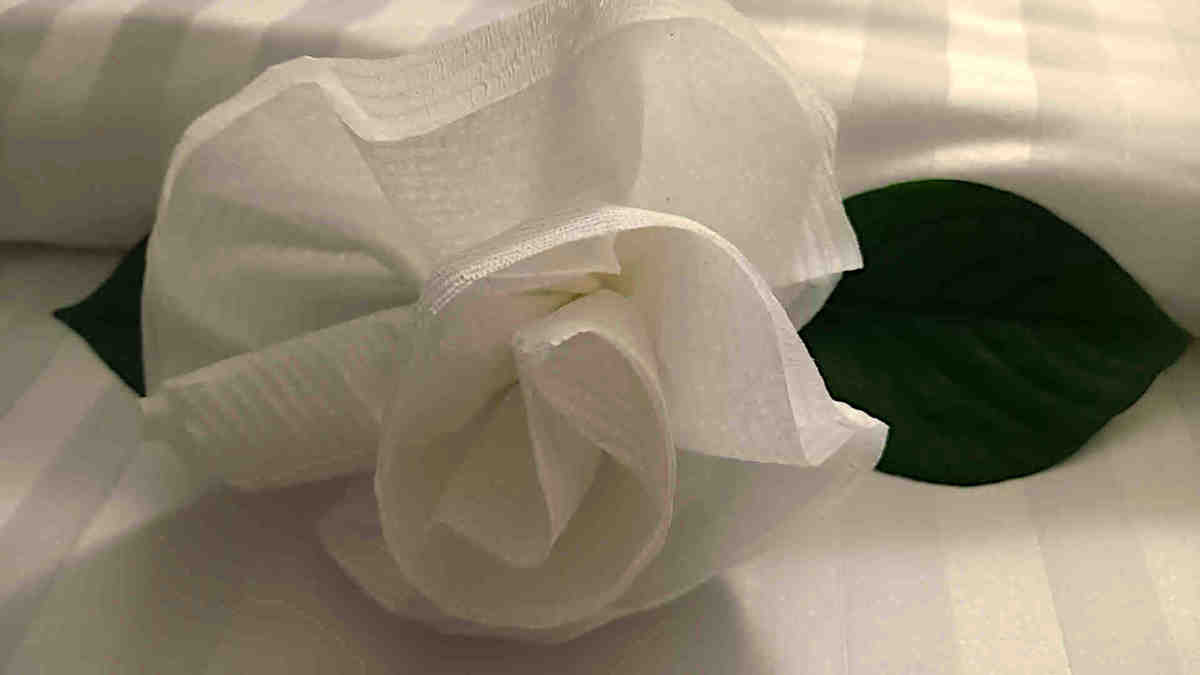 Each room also has a terrace with a hammock, a small table and chairs. Very pleasant to relax as I have found. Especially the hammock. And of course, free Wi-Fi is available throughout the property.
The garden at Allegro Playacar
The landscape design was really well considered in this hotel. The complex gives the impression of a lush, green garden with small bungalows. It doesn't look like a big hotel with just a bit of greenery, though it does have a large number of rooms.
Everywhere there are well-kept lawns with green trees. In between, colorful flowers of tropical shrubs. The area is also home to many wild animals. Iguanas follow you every step of the way and are already very experienced in posing for photos.
There are also small animals whose names I do not know. They act like a mixture of beaver and guinea pig and are very active all around the place. These creatures made me laugh every day. And yes – at night I also saw raccoons in the garden.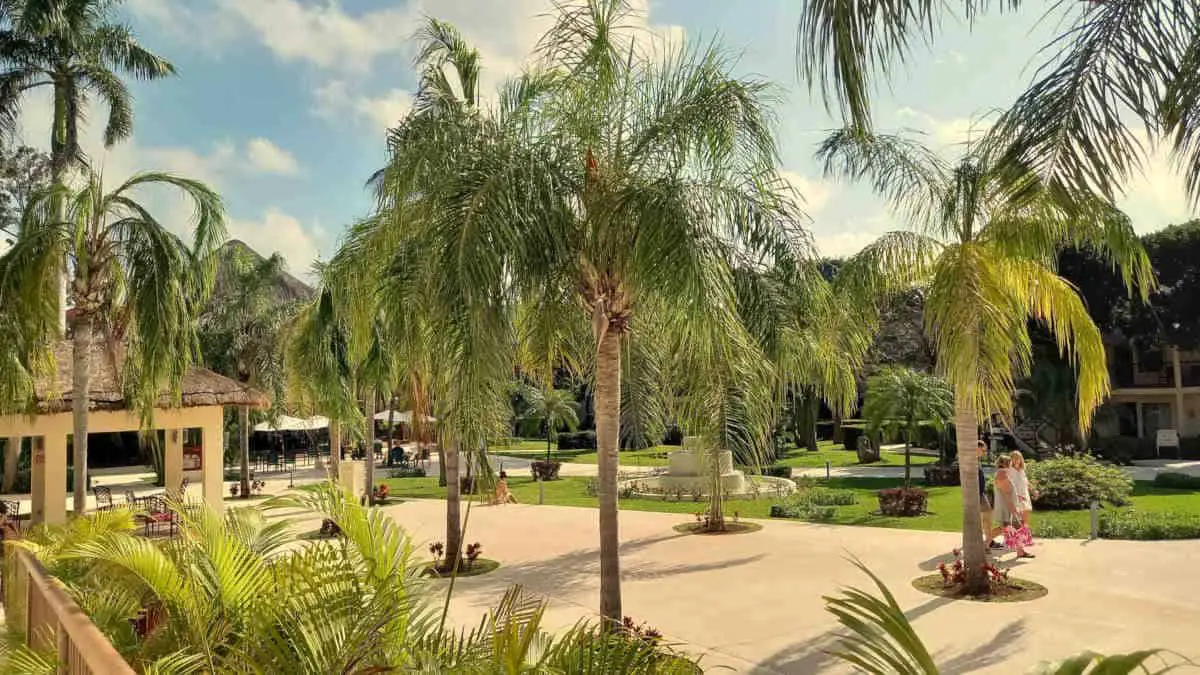 The Hotel Beach
… is simply dreamlike and beautiful. I took this for granted before my trip. But Playa del Carmen has grown a lot since my last stay. We took a walk on the beach from the center of town to our hotel. And since I know Playa from before, I was – to be honest – often horrified. In many places, the beach offers no shade or is completely filled with beach chairs up to the waterline. Sealed.
Not so at the Hotel Allegro Playacar. The beach here is still wide and beautiful. Just as I remember it. White sand as far as the eye can see. And just behind it, the turquoise blue waves of the Caribbean Sea. After a thunderstorm there was a bit of seaweed. But it wasn't bad, and the hotel beach was cleaned regularly.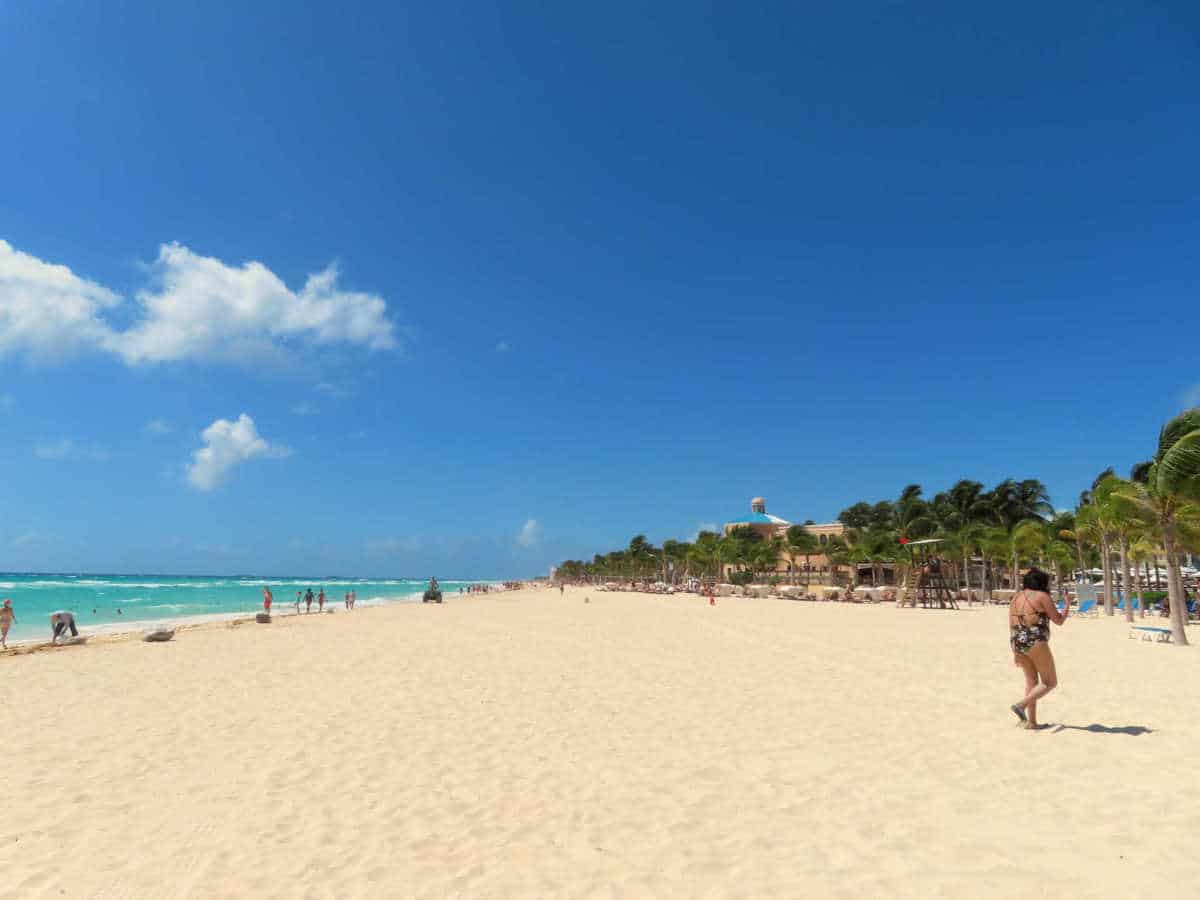 There are coconut palms everywhere that provide the long-awaited shade. Between the beach chairs there is enough space to enjoy a minimum of privacy. Depending on the position of the sun, you just have to change your beach lounger a bit several times a day to stay in the shade of the palm trees. Anything else would be fatal for white skin.
The drink service on the beach is also really nice. We chatted a lot with the people who regularly provided us with delicious drinks. The team is super motivated. We tipped a bit every time. So, in the end our favorite drinks arrived before we had ordered them. Simply perfect! My special thanks go to Maggie who tirelessly provided us with Xtabentún (traditional mayan anise liqueur) and Mojitos.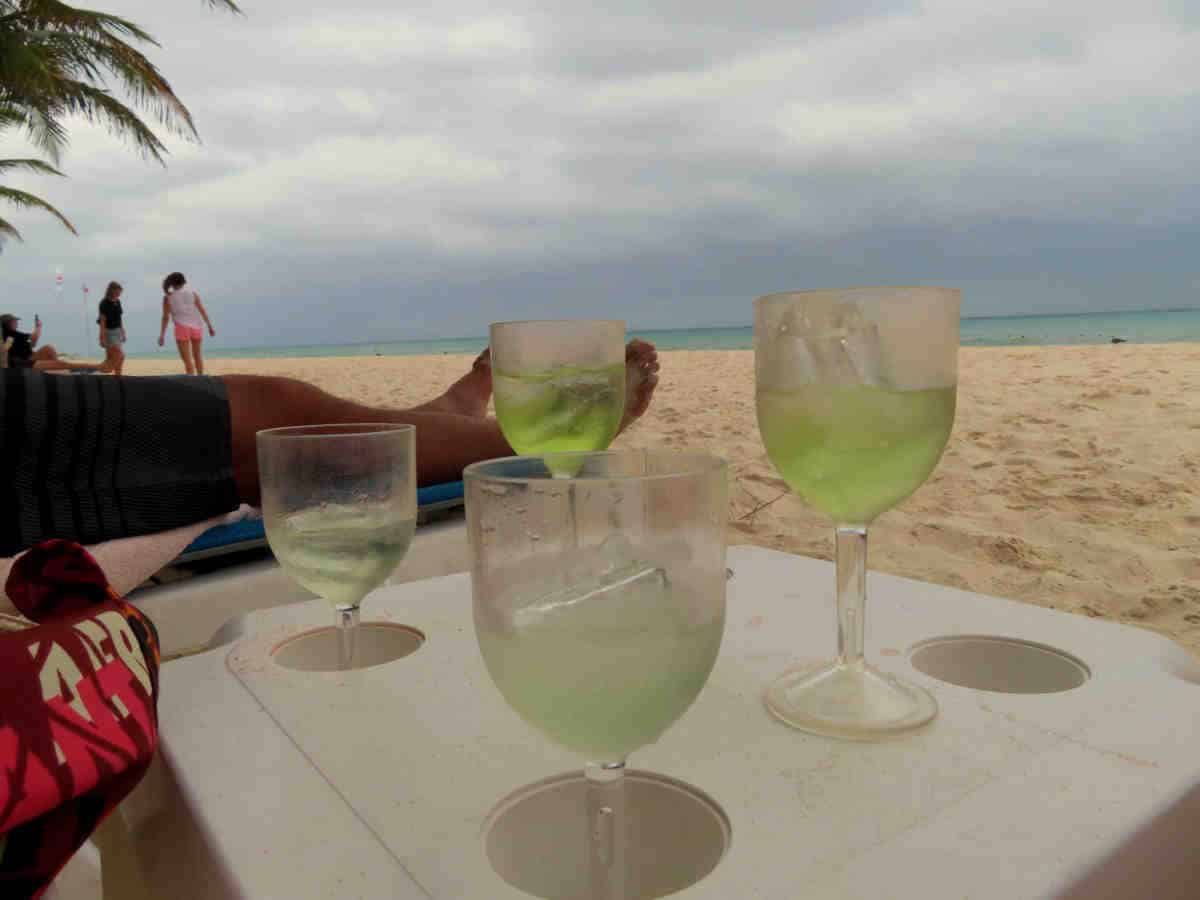 Often many seagulls gather on the beach, which are very funny to watch. Of course, they fight for food and can also leave a lot of dirt. To prevent this, the hotel has found a great strategy. Several times a week, an employee from a nearby nature park stops by. With a tame eagle. The eagle then flies a few laps and brings the seagulls under control. Very efficient. And the ecological footprint = zero.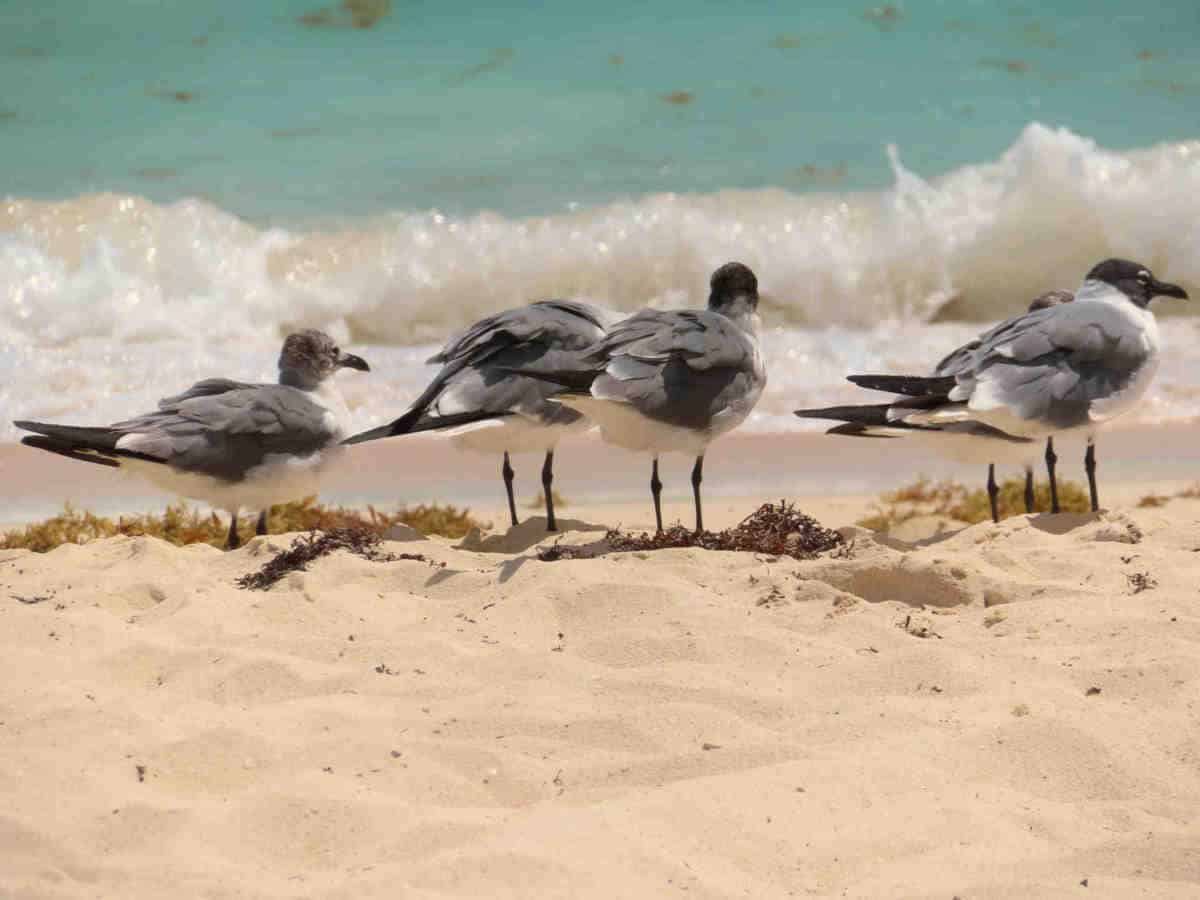 Swimming Pool at Allegro Playacar
The Hotel Allegro Playacar not only has a swimming pool. It even has two of them. Both are quite large, and the water has a really pleasant temperature. Of course, everything is very clean. Around the pools there are loungers and also some shady areas.
The larger swimming pool is located directly on the beach with a great panoramic view of the sea. There is always music and animation there. The ambience is really good. The pool is large enough to swim a few sporty lengths. You can stand anywhere as an adult. But swimming is actually much more fun.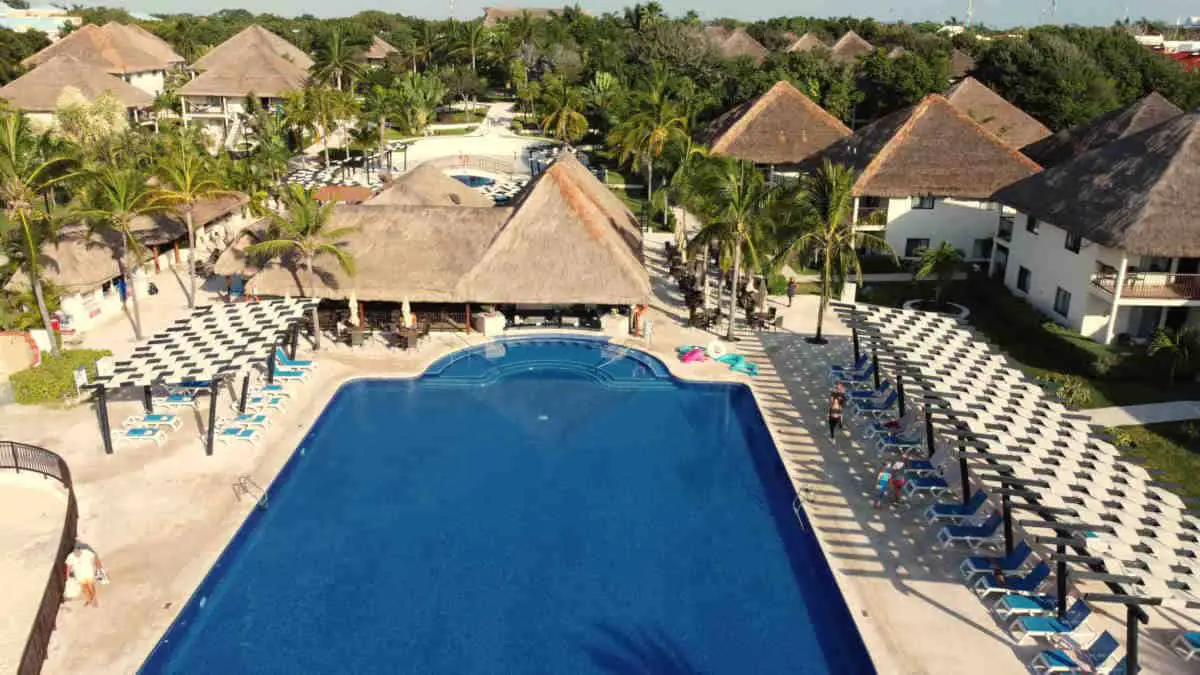 The "smaller" pool is actually not really small either. It is located just behind the pool on the beach, separated only by a restaurant with bar. Its basin has the shape of the number eight and is spanned at the narrow point in the middle by a small pedestrian bridge. On some days, diving lessons are offered in the back of this pool. But there is always more than enough space to swim in privacy.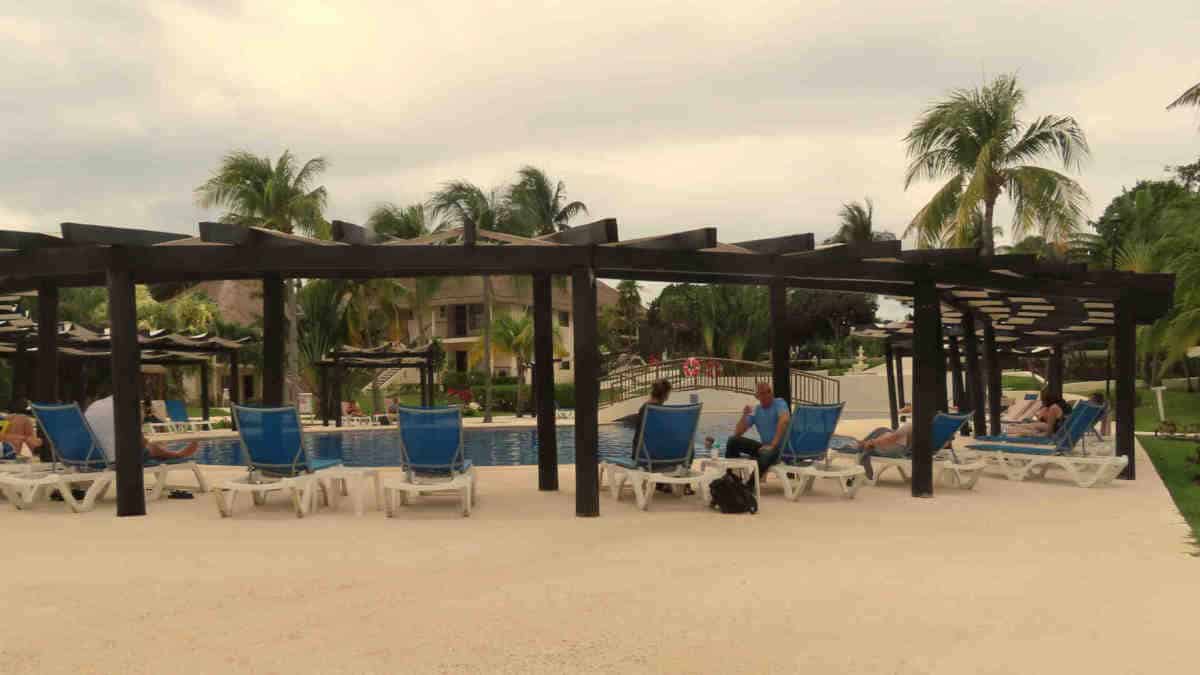 The pools are very convenient on days when there is a thunderstorm. Because after a storm, the waves in the sea simply are not made for everyone. Seaweed is then washed up more often. Not too much, but if you don't like it, you can comfortably change to the swimming pool and relax.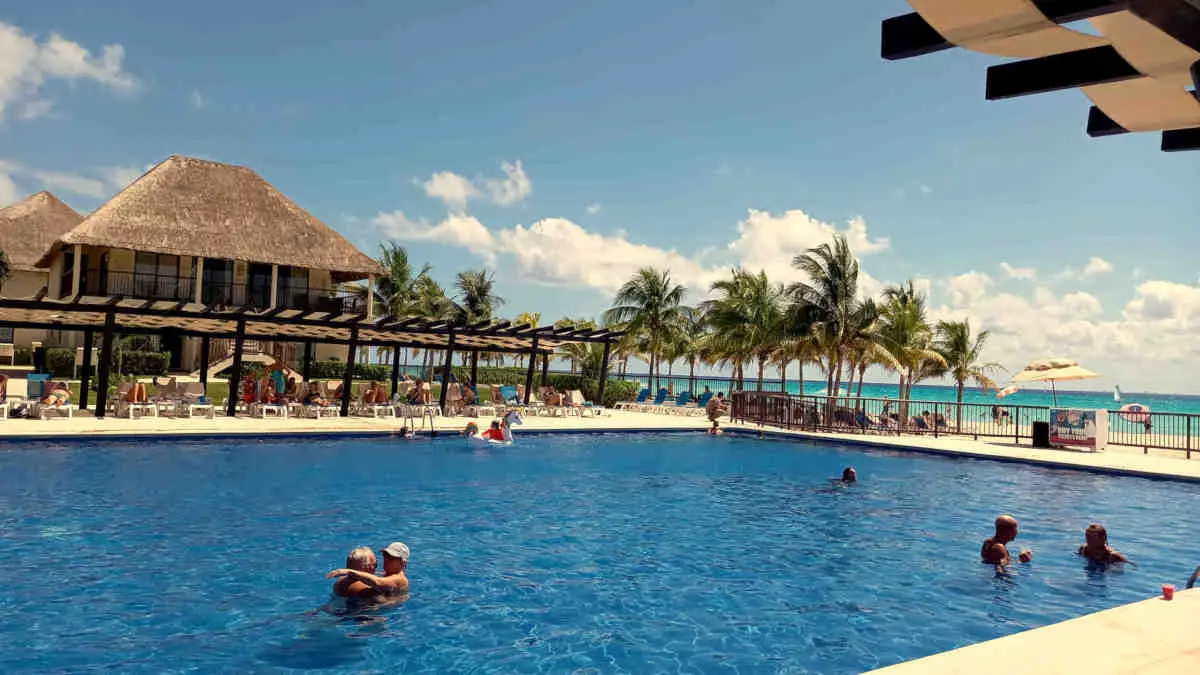 During our week at the hotel, we swam both in the sea and in the pool. Both were very pleasant and never too crowded with people. And this despite the fact that the hotel was more than 90% fully booked during our stay. We actually asked at the reception.
Food and restaurants at Allegro Playacar
Well, yes… now this part of our stay really got me crazy. The cuisine at Hotel Allegro Playacar is really delicious. Of course, I have to admit that I love Mexican food more than almost anything else.
Breakfast
In the morning there is a huge breakfast buffet between seven and ten o'clock. The restaurant is located in the main building just above the reception. And I can tell you… it's totally delicious. Personally, I could not care less about the European breakfast with toast and jam. For me, the breakfast may have the scope of an extensive main meal. My body still has the whole day to burn the calories again.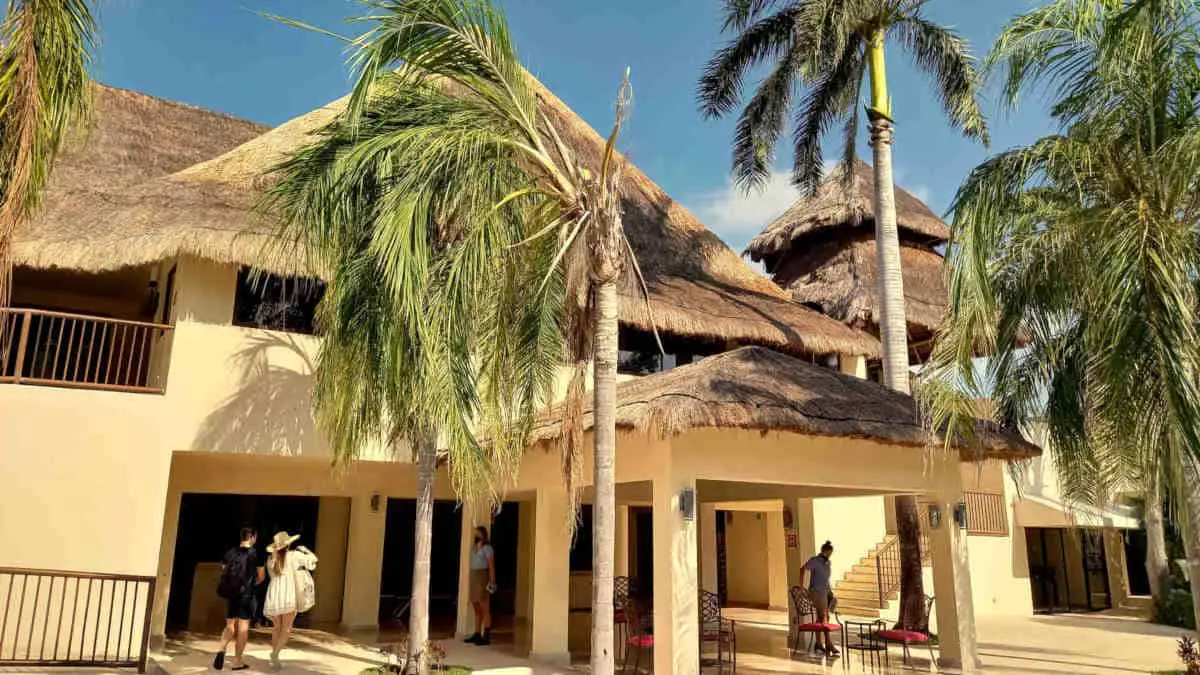 Well, as soon as you arrive at the reception of the restaurant, you will be expected by a friendly lady. You give your room number and the number of people and are then accompanied to your table. We never had to face longer waiting times.
As soon as you take a seat, friendly waiters appear and ask for your wishes for coffee or tea. For my part, I start the day with fresh lemonade with ice cubes, and that was no problem at all. As soon as you have placed your order for the drinks, you can rush to the buffet.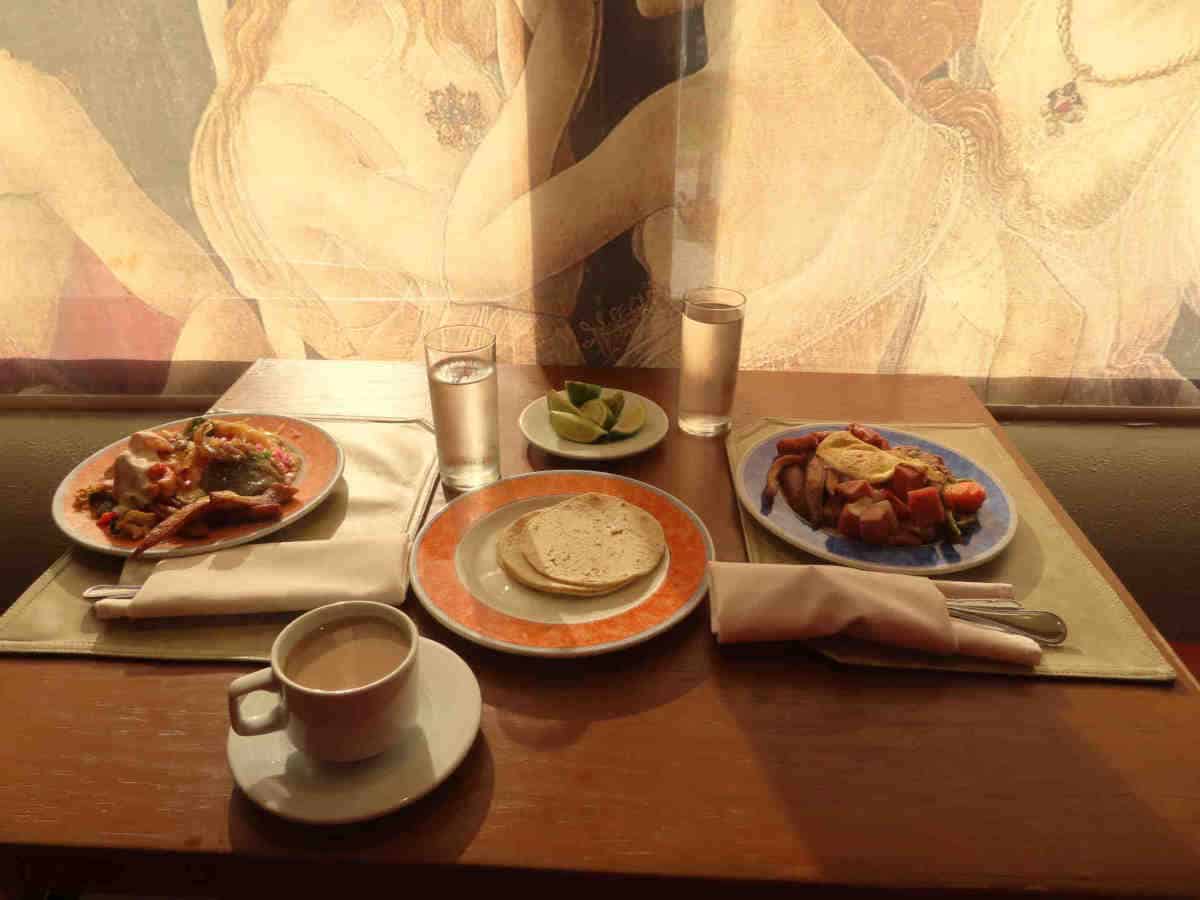 The selection of food is very tasty and extensive. In addition to the usual "European" breakfast stuff, there are always eggs, beans and an extensive selection of other treats. Fried sausages, bananas, sweet potatoes, vegetables, stew… you can hardly see enough of it or try to eat it all. And the offer changes every day, so it never gets boring.
At the grill you can also order fresh eggs – for example, fried eggs, optionally fried on one or both sides. There are delicious chili sauces and marinated onion as a side dish. Of course, a huge selection of fresh fruits and sweet baked goods is also waiting for you. Also, a good assortment of fresh fruit juices and smoothies.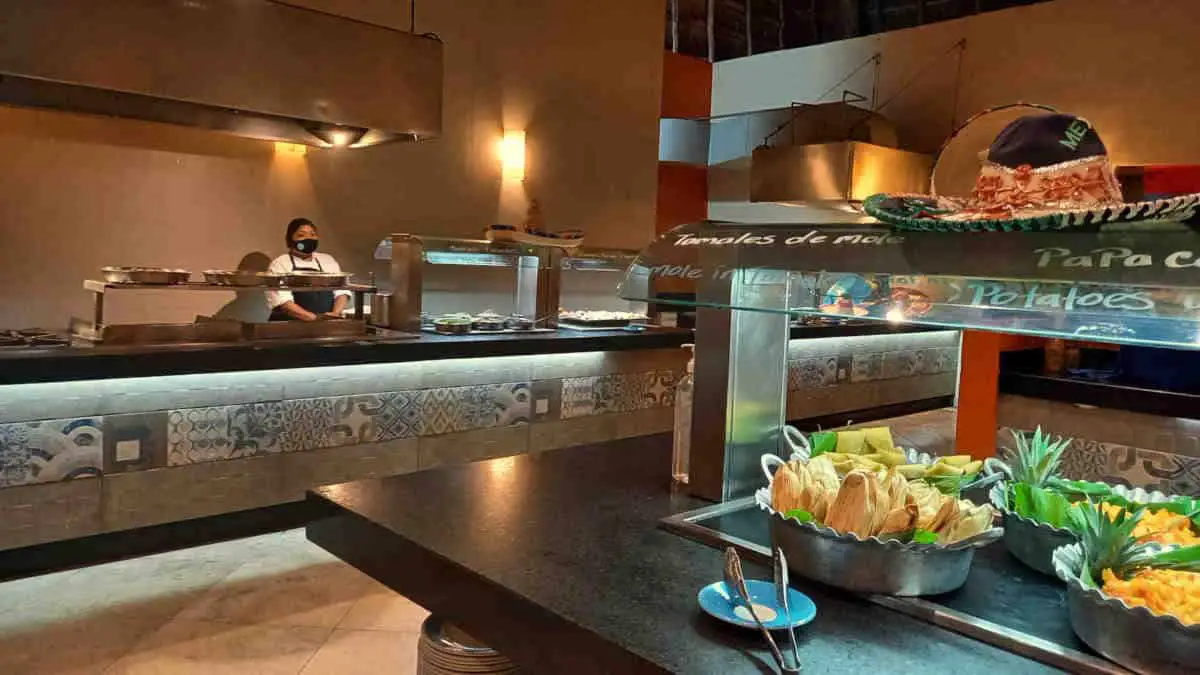 The people from the service team were totally motivated and friendly. Please do not forget to leave a tip at the table and also at the grill. The people who give you a friendly smile at breakfast and regularly refill your coffee cup have been on duty since three o'clock in the morning. We talked to them.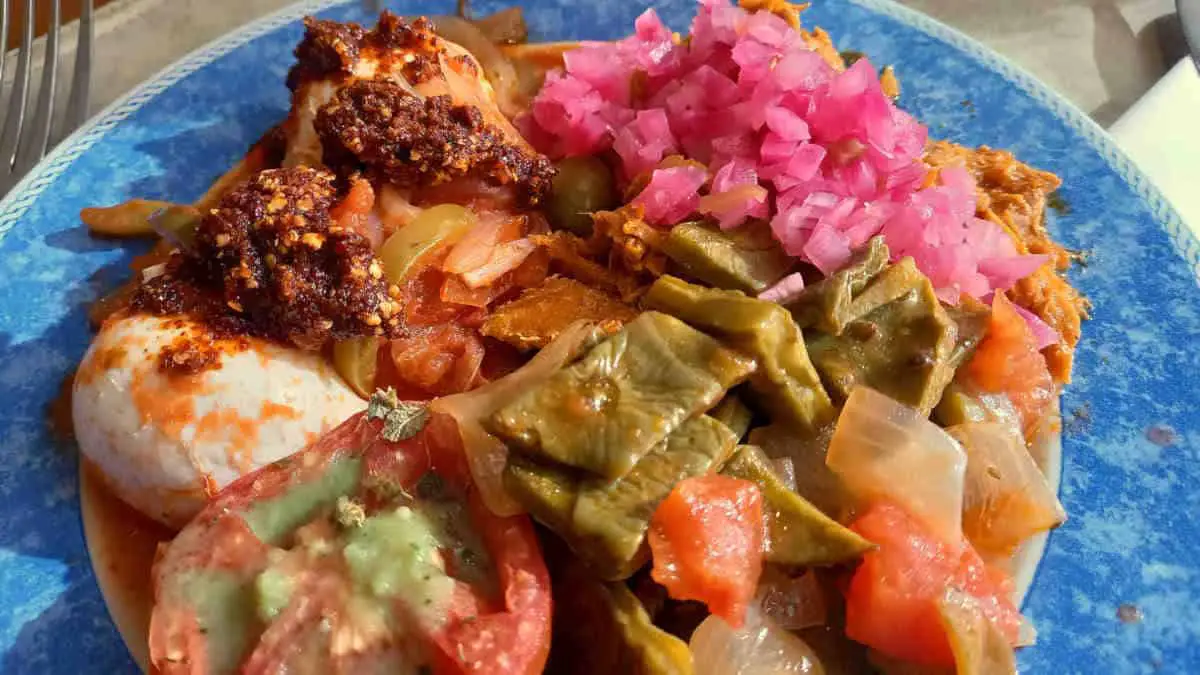 Lunch
After we had had such a wonderfully abundant breakfast, we actually started every day with the intention of omitting lunch. But there is this delicious restaurant between the two pools right next to the beach.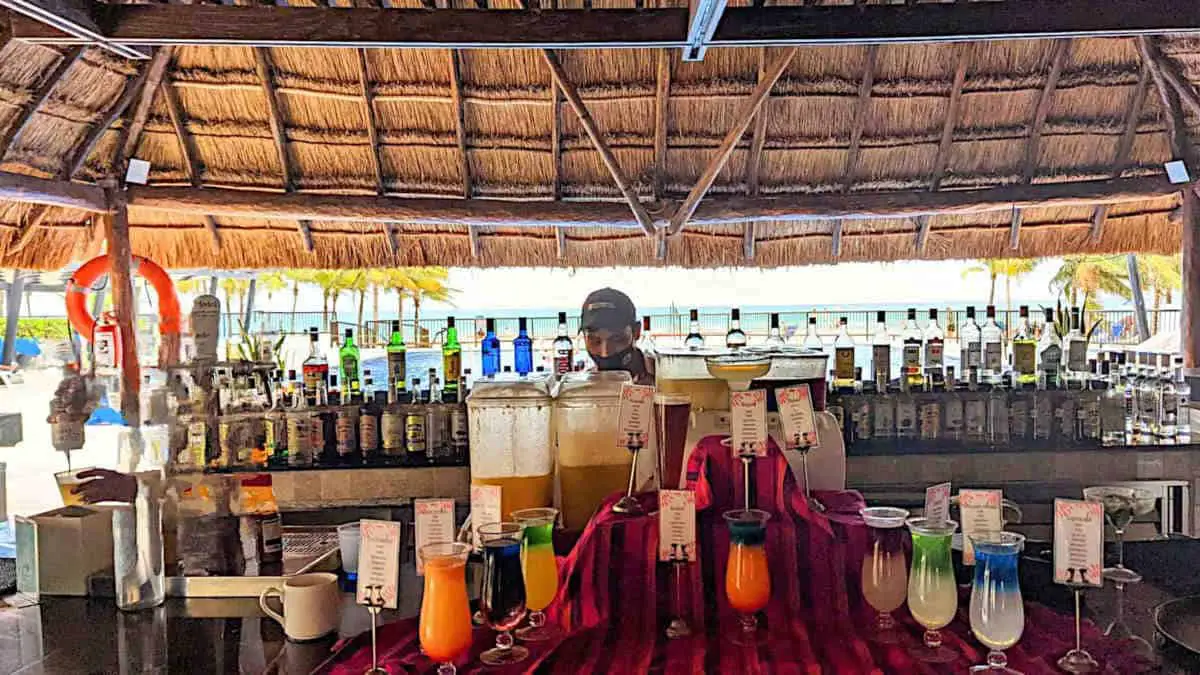 So of course, we landed there around noon. How not? It is a pleasant, open building with a thatched roof. The shade is very welcome after the sun at the beach. Also, outdoors there are tables with umbrellas. This restaurant can get quite crowded for lunch. But if you don't get a table anymore, you can just take your plate with you to your beach lounger.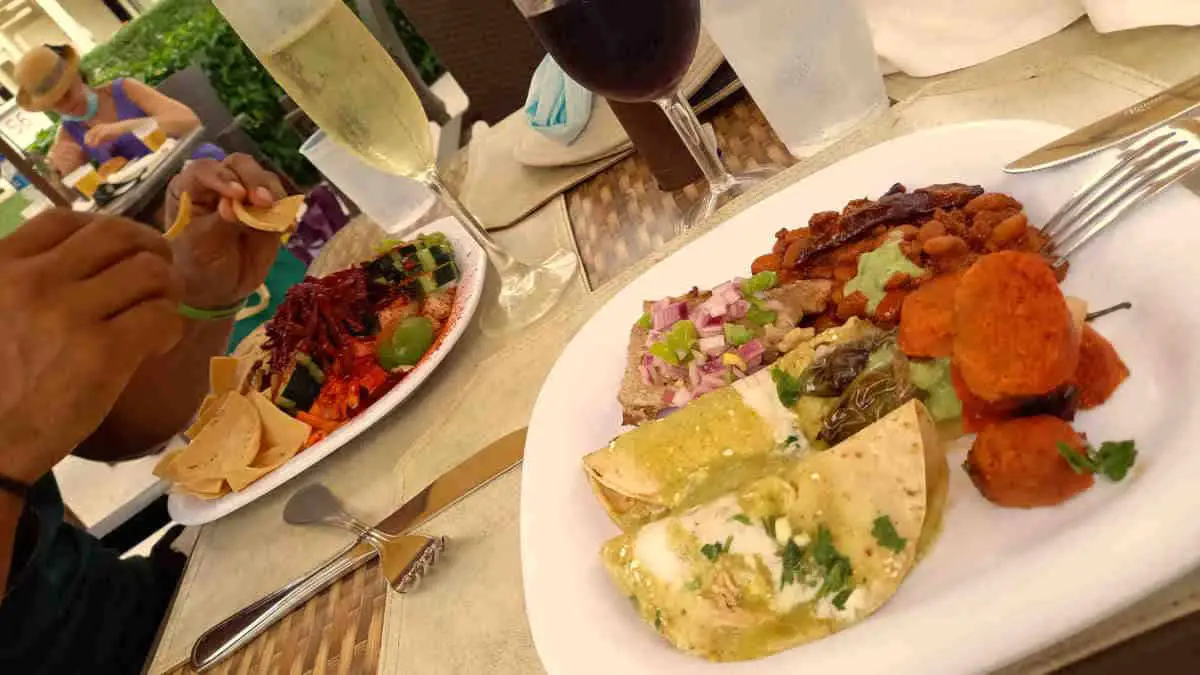 The offer for lunch consists of a buffet with a good selection. I especially liked the fish incredibly well. You can also have fresh hamburgers or hot dogs prepared on the grill. Delicious! But you can also expect fresh salads, meat, vegetables, fruits and sweets. So, life was good.
Dinner
Hotel Allegro Playacar offers a large buffet in the evening and some restaurants. A reservation is required for the restaurants. I admit it openly – we've never been there. The buffet offers a new theme every day from Asian to Mexican food. It is so beautifully presented and everything is really delicious.
We feasted as if there was no tomorrow. The service is really nice, and also the wine was fine. This is by no means a matter of course in Mexico. Of course, the Mexican dishes were always the best, which could not be missed on any day. Especially on the Mexican evening, the food was just a dream. During our stay, the Mexican menu was offered on a Wednesday.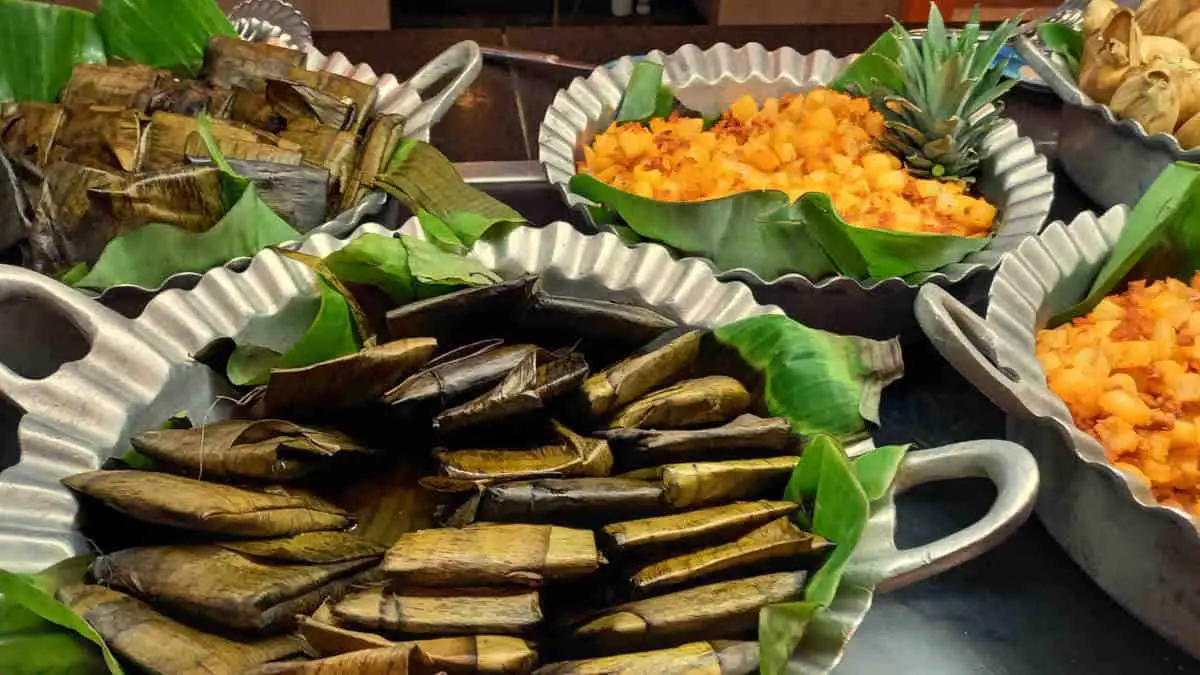 Activities and things to do at the hotel
We were lucky – after the worst phase of the pandemic, the Allegro Playacar had animation on offer again. And it was really surprisingly nice and fun.
During the day, the animation was offered mainly at the large pool by the beach. There was of course a lot of good music, yoga, aerobics and Zumba, darts and a lot of funny competitions in the water. In between, there are also courses on cocktail mixing and other exciting things.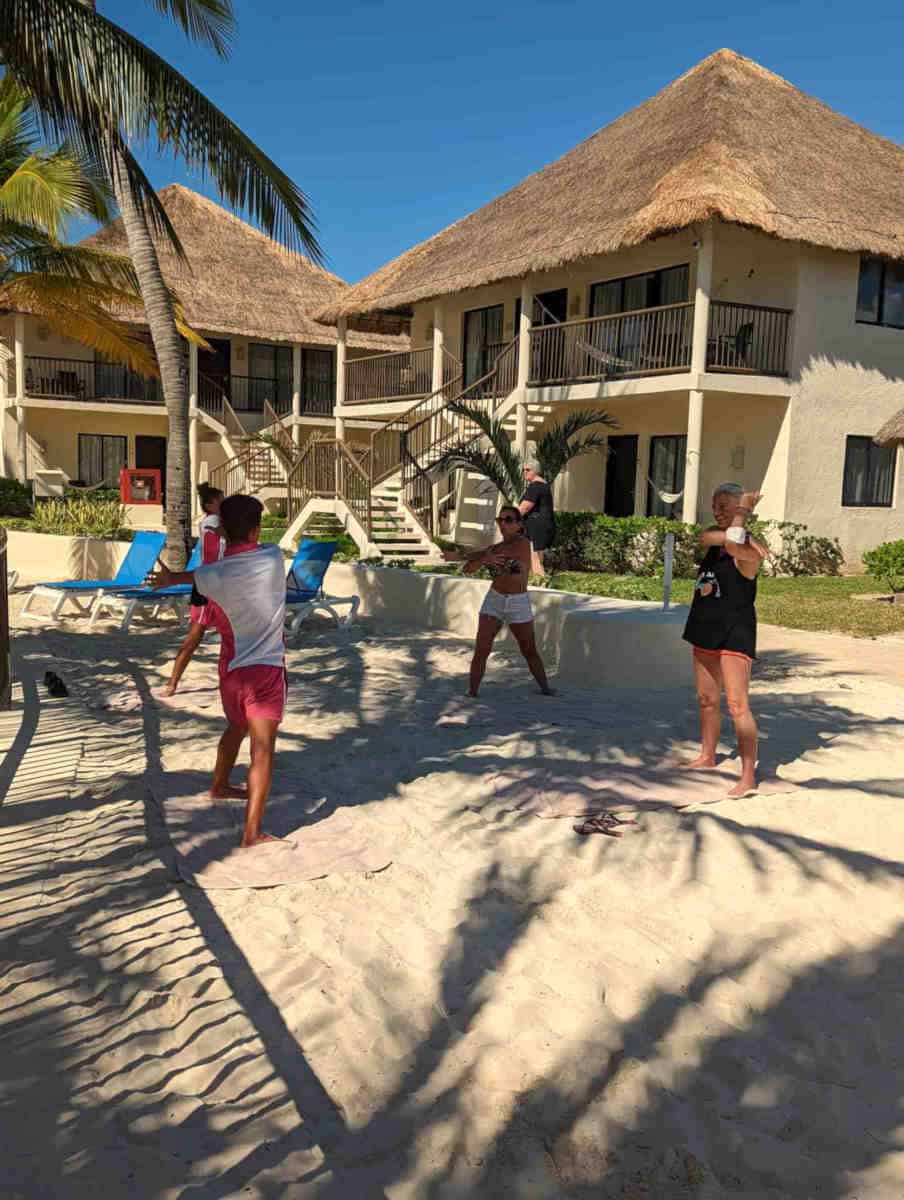 On the beach itself, beach volleyball and football were played every day. You can also rent jet-skis or have a boat pulling you high in the air across the blue sea when parasailing. An absolute highlight were the skydivers, who landed with their parachutes just in front of us like every minute. They are tandem jumps with professionals, which are also perfect for beginners.
These activities are not offered directly by the hotel and are of course not included in the room rate. But you will find the organizers right on the beach and can book there.
There is, of course, a spa in the hotel. Also massages on the beach. Tennis courts and a basketball court are available. Long story short – it never gets boring.
My big thank you goes to the animation team and their boss "Sexy Chocolate". You all were just great!
Nightlife at Allegro Playacar
Nightlife is another plus at Allegro Playacar. Of course, you are welcome to go to the crowded clubs in the center of Playa del Carmen. But if you don't feel like that, you're in good hands at the hotel.
The site has a small, open theatre right next to the main building with the reception. And every night after dinner there is a different event. Three tenors, Michael Jackson show, karaoke, circus, an evening to dance, magicians, Mexican dance groups… it was really varied.
The artists were very good without exception. The ambience in the theatre is pleasant due to the open construction. A thatched roof protects you from rain in case of emergency. Right next door, a small bar provides you with delicious drinks of your choice.
Again, my big compliment goes not only to the artists, but also to the tireless team of animation. These people were active in the theater after breakfast by the pool and until the end of the evening in the theatre. Always motivated and funny.
Guests are included in the evening. The more people participate, the funnier it becomes. And yes… on the Mexican evening, my partner even won a bottle of tequila. The drink was extremely tasty. Thank you, guys!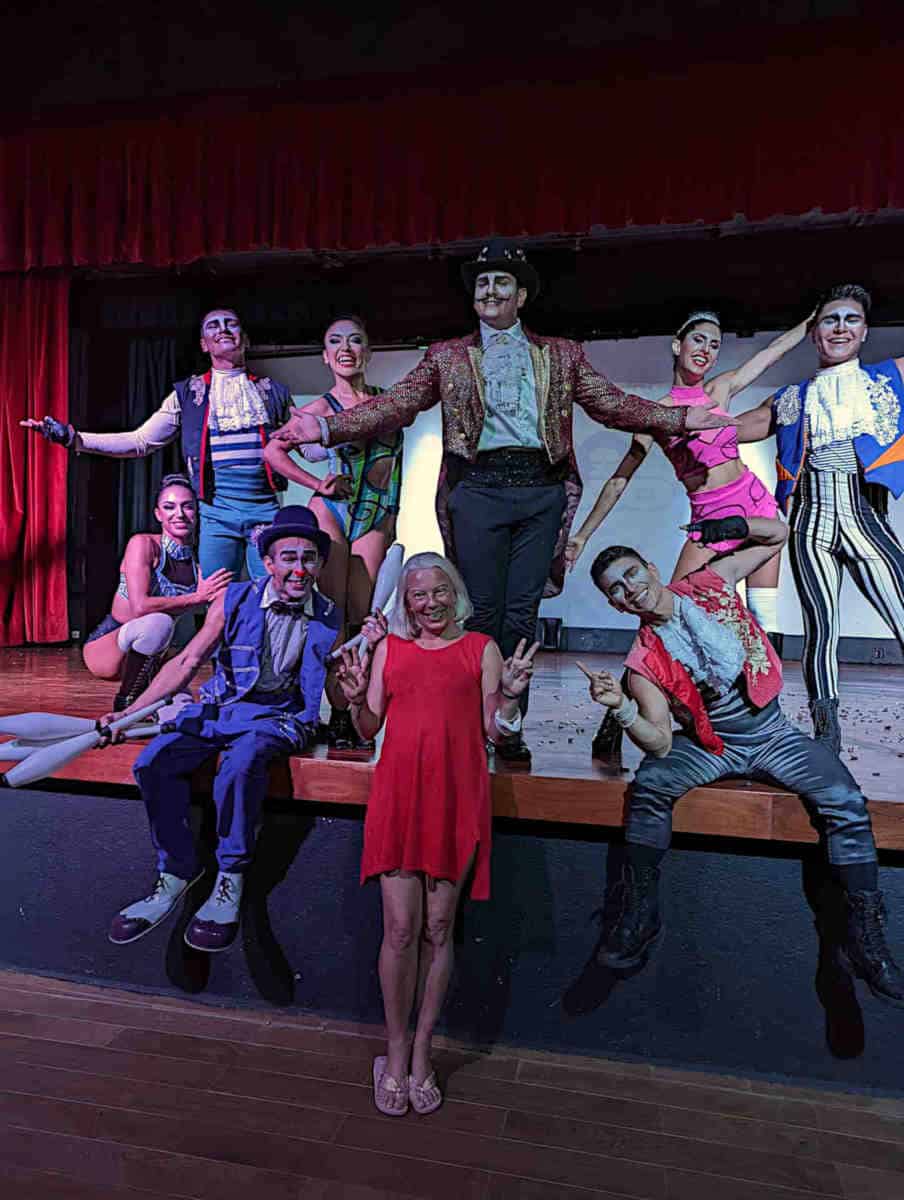 And if all that's not enough for you… the center of Playa del Carmen and its huge range of clubs, bars and restaurants are just a 30-minute walk away.
Excursions in the surrounding area
If you want to get to know the sights of the region, you can of course have the right excursions organized at the hotel at any time. But if you just want to get out quickly, you can also do some things nearby.
When you walk out of the hotel, there is a small shopping center on the left after a really short walk. There you will not only find an ATM and nice boutiques. Outdoors there are also a lot of stalls selling souvenirs.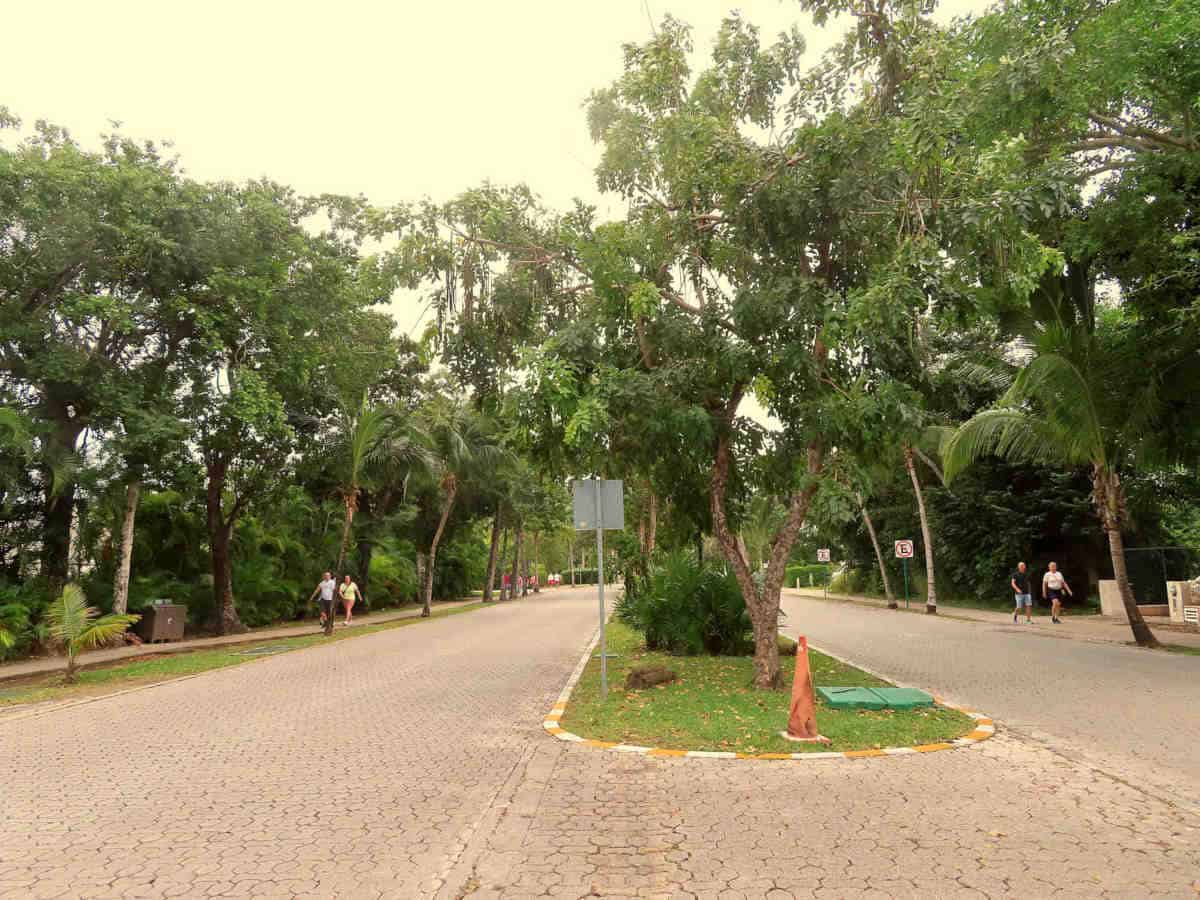 Get out of the hotel and keep to the right – this path will take you to the center of Playa del Carmen. But before you get there, the Mayan ruins of Xaman Há ("Water of the North") await you. There are no huge pyramids like in the big old cities otherwhere in the Yucatan. But actually, there is a large number of buildings, namely more than a hundred. They are scattered throughout the hotel zone of Playacar. This coast was an important place in Mayan times. Not only for trade, but also as a starting point for pilgrims to the holy sites on the island of Cozumel.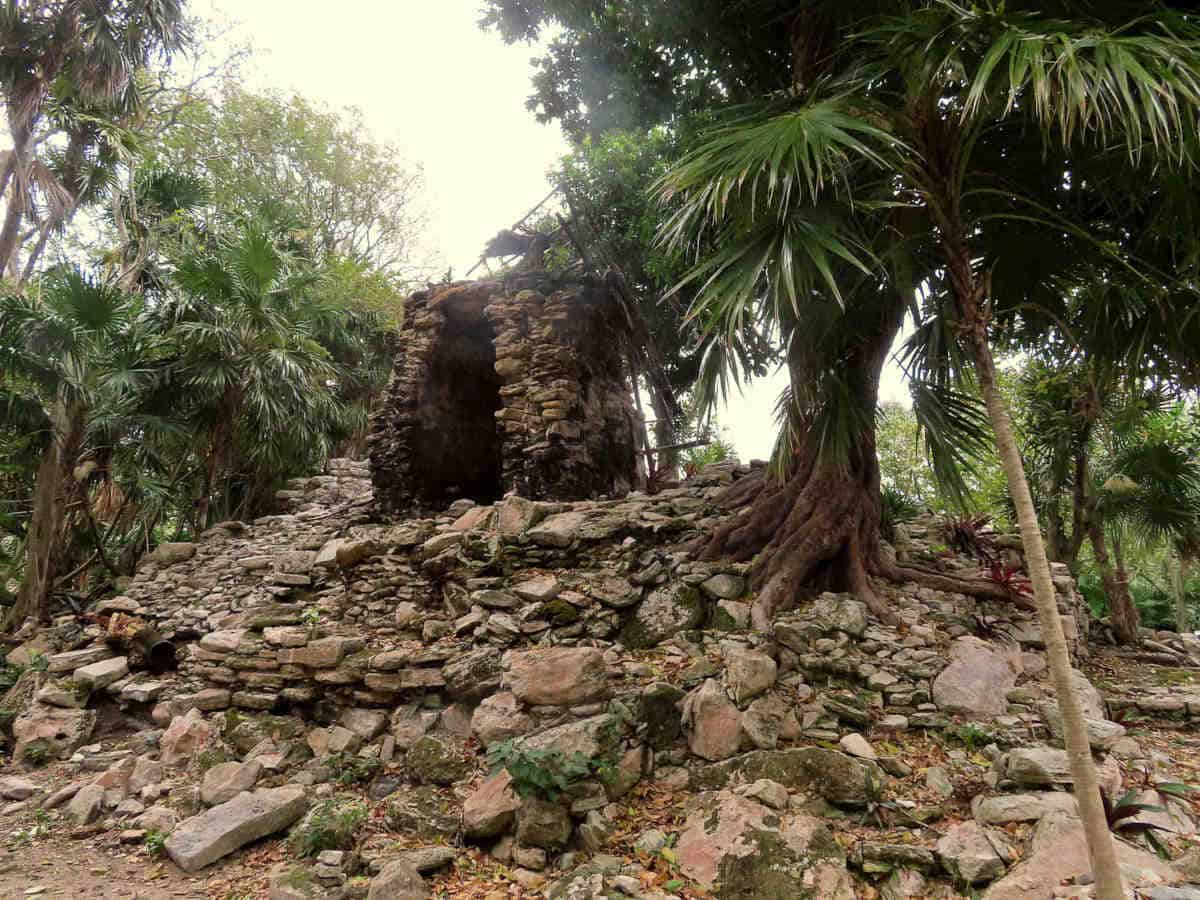 On the way to the center, close to the Mayan ruins of Xaman Há, there is also the Aviario Xaman Há bird park. There are tropical birds such as parrots and flamingos to admire.
And well… depending on how fast you walk, you will get to Playa del Carmen after a walk of about 20-30 minutes. The city center with its vivid life is certainly worth a visit. And not only for night owls. More about this in our review about the center of Playa del Carmen.
Souvenirs
When we were at the Hotel Allegro Playacar, there was also a small stall selling souvenirs. It was located on the way to the beach just before the first swimming pool. I fell in love with a beautiful handbag at first sight.
Unfortunately, I didn't buy them. My partner and I both thought that we would find such a bag outside the hotel much cheaper. It used to be that way in Mexico before. But now – a huge mistake. It is partly unbelievable what prices are charged for souvenirs. Also compared to European prices.
I later found another handbag. That was after 1000 km by car and it felt like 500 sales booths and shops. The price was only two dollars cheaper than at the hotel. Therefore, if you find a nice travel souvenir at the stall in the hotel area, just get it. Without any kind of a bad conscience.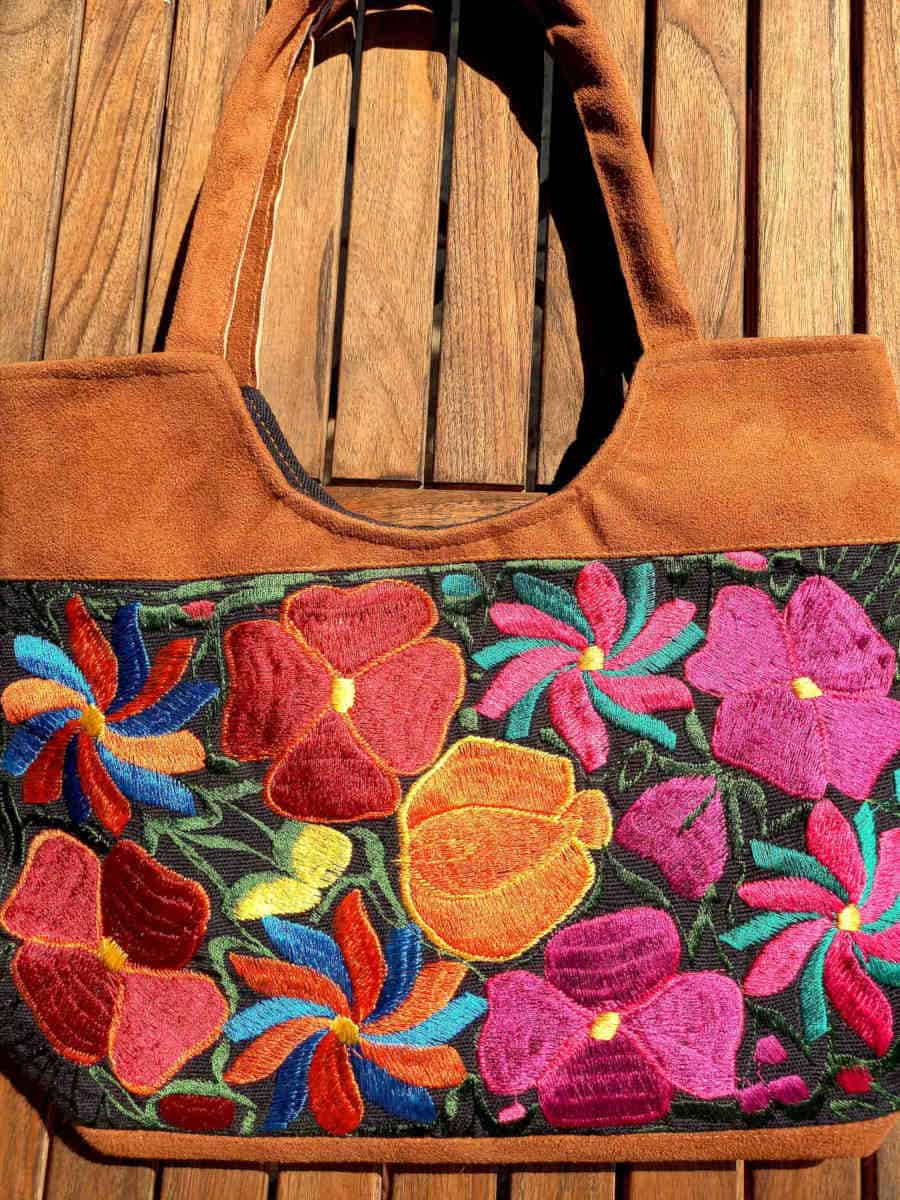 COVID-19, health and safety at the hotel
During our stay at Allegro Playacar, the pandemic in Mexico was not a big issue. Nevertheless, both in the hotel and everywhere else meticulous attention was paid to protective regulations. And I actually thought that was pretty good. Because at the same time, at home almost all the people I know where sick with COVID. Some of them again and again, like every three weeks.
Therefore: To enter the hotel or any other place in Mexico, of course, the wearing of a face mask was mandatory. In addition, there were floor mats with disinfectant everywhere at the entrance, through which you had to walk. Furthermore, a disinfectant liquid for the hands and a fever thermometer to control the body temperature. And that was not only the case at the hotel. Even in the most remote corner of Mexico, you just couldn't get anywhere without going through these steps.
During our stay in Mexico, the Mexicans wore their masks all the time. Also, outdoors and at 36 ° C degrees in the shade. Hence the low number of infections in the country at the time of our trip. In the hotel itself, the mask was always to be worn when entering the restaurant or bar and on the way to the table, buffet, toilet or whatever. At the table itself, the mask could be removed.
At first, I really had to get used to all those measures. But at the end of the day, it still made me happy. Because it also gave me the feeling of being safe. So, if these rules still apply during your visit to Mexico, please do not riot. It's good for everyone. You don't want to end up in a quarantine hotel.
Is it worth staying at All Inclusive Hotel Allegro Playacar?
My opinion on the topic: absolutely. The time at the hotel was so great that I said goodbye with a heavy heart. Even despite the fact that ten more days of a discovery round trip through Yucatan awaited me. Therefore, if you are looking for a good place for your holiday in Playa del Carmen, I can highly recommend All Inclusive HotelAllegro Playacar.
Book All Inclusive Hotel Allegro Playacar online
My partner had invited me to this holiday, and he also took care of the organization of our trip. I was lucky enough to just get on the plane and then let myself be pampered. But as far as I know, he reserved our room on Booking.com. Here I have prepared a link for you in case you want to have a look.
Did you like this post? Pin it!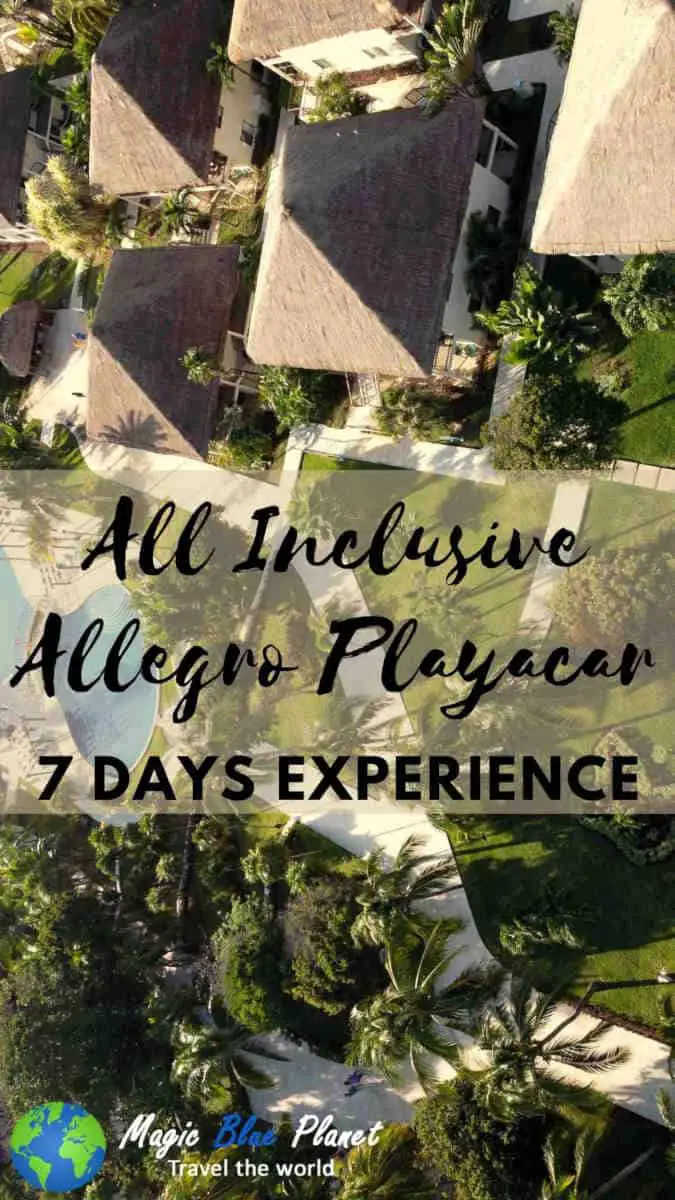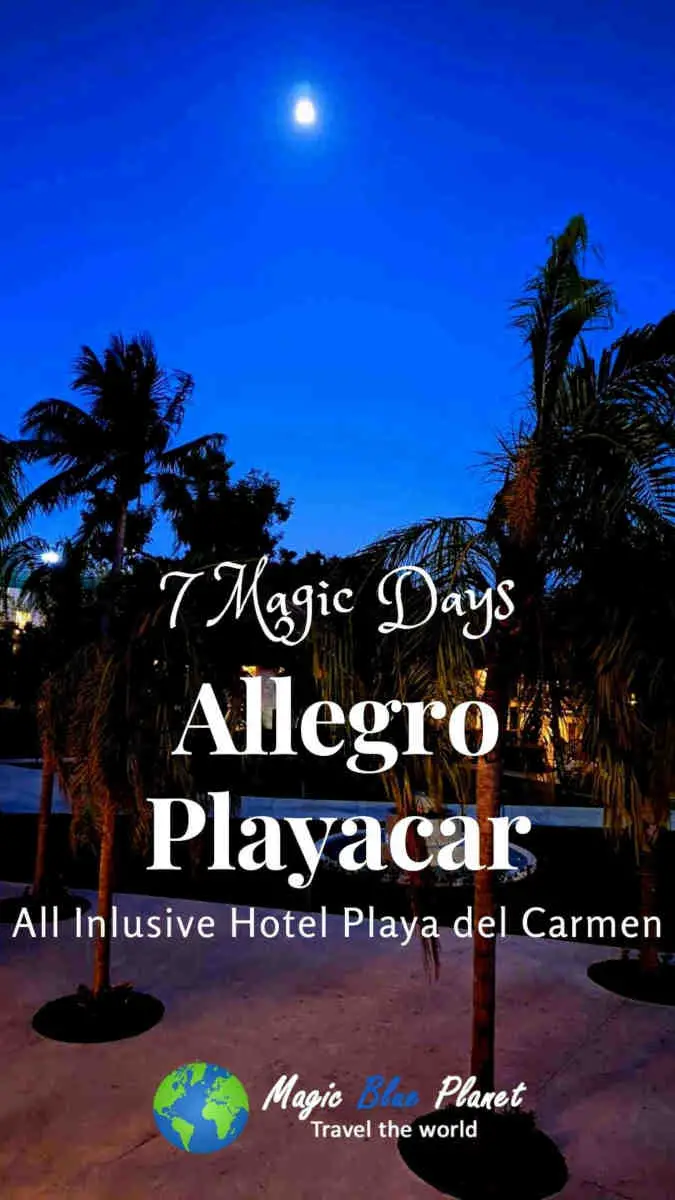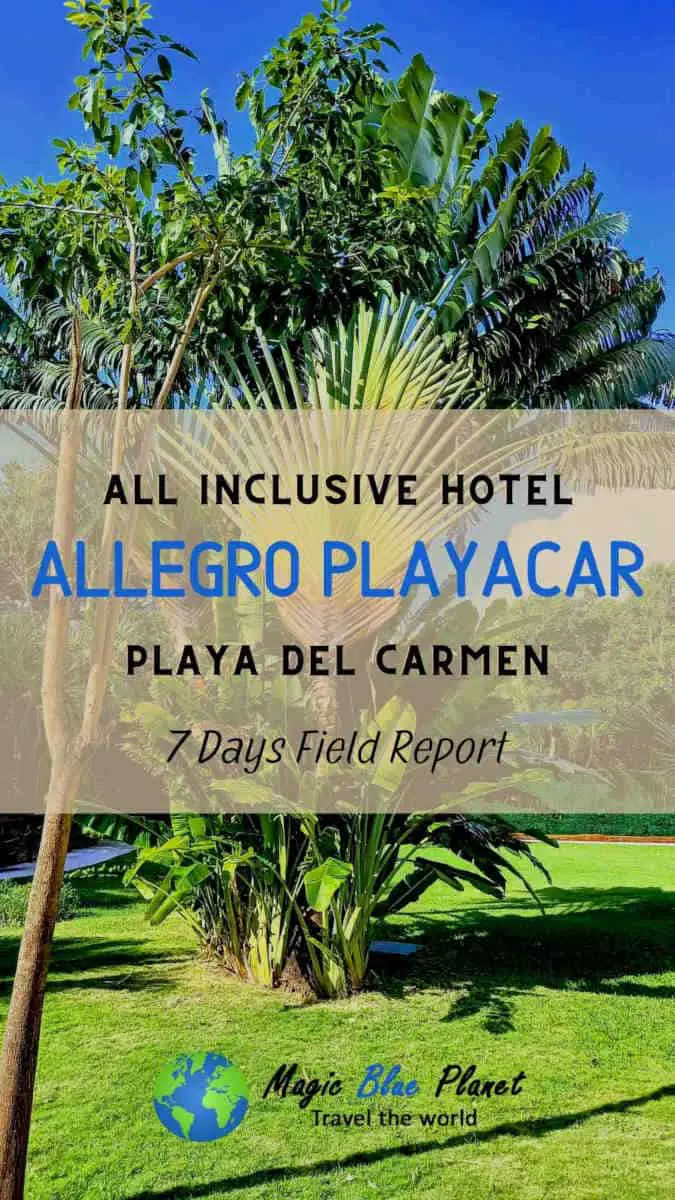 We are using affiliate links on our pages. If you purchase through these links, we receive a small commission without any extra cost for you. In some cases you even might get a discount. We appreciate your support!