Isla Contoy, Mexico
A Day in Untouched Nature
Imagine a tropical island… a beautiful island in the Caribbean Sea. It is small and uninhabited. I mean – uninhabited by humans. But actually, it is densely populated. By thousands of birds nesting in the abundant green vegetation. In the company of rare sea turtles and millions of colorful fish in the sea around the island. Does that sound good to you? Then you should get to know Isla Contoy in Mexico.
Estimated reading time: 5 min
Content: Isla Contoy, Mexico
---
Where is Isla Contoy located?
Isla Contoy is a small island in u003ca href=u0022https://magicblueplanet.com/en/mexico-travel/u0022 target=u0022_blanku0022 aria-label=u0022Mexico (opens in a new tab)u0022 data-schema-attribute=u0022aboutu0022 rel=u0022noreferrer noopeneru0022 class=u0022rank-math-linku0022u003eMexicou003c/au003e. In fact, it is only 8 km long. It is located in the Mexican state of Quintana Roo off the Yucatan Peninsula, about 30 km north of u003ca href=u0022https://magicblueplanet.com/en/isla-mujeres-mexico-guide/u0022 target=u0022_blanku0022 aria-label=u0022Isla Mujeres (opens in a new tab)u0022 data-schema-attribute=u0022mentionsu0022 rel=u0022noreferrer noopeneru0022 class=u0022rank-math-linku0022u003eIsla Mujeresu003c/au003e and quite close to u003ca href=u0022https://magicblueplanet.com/en/cancun-guide/u0022 target=u0022_blanku0022 aria-label=u0022Cancun (opens in a new tab)u0022 data-schema-attribute=u0022mentionsu0022 rel=u0022noreferrer noopeneru0022 class=u0022rank-math-linku0022u003eCancunu003c/au003e. The island is located between the Caribbean Sea with its clear warm water and the Gulf of Mexico with deep and cold water and is just a bit more than 3 square kilometers in size. The western shore of the island has white sandy beaches with crystal clear water and dense green vegetation. The eastern part is facing the open sea and is formed rather rough by wind and currents.
---
Isla Contoy on the map
---
Nature on Isla Contoy
Isla Contoy is uninhabited, there is no fresh water on the island. Contoy is mainly overgrown with mangroves and is the main nesting place for birds throughout the Mexican Caribbean. It is home to more than 150 species of birds, including brown pelicans, more than 5000 frigate birds with wingspans of up to 3 meters and over 3000 cormorants. The island also houses a flamingo colony and is a breeding ground for sea turtles. The waters around Contoy are home to many exotic fish species.
The crystal-clear water around Isla Contoy allows a wonderful view of the underwater world. A variety of colorful creatures lives In the reef. And in the Imaxpoit Bay next to the jetty for the tourist boats, Manta rays are gliding fearlessly through the water between the swimmers.
Between April and October, four very rare and endangered turtle species (Caretta Caretta, Chelonia Mydas, Eretmochelys Imbricata and Dermochelys) visit the island for egg laying.
You can also find the rare whale sharks near Contoy. During the mating season in the months of May to October they visit the waters in the northeast of the island. Whale sharks are gentle creatures. They feed on plankton. Nevertheless, they are the largest fish in the world with a length of about 13 m. But there are also larger specimens.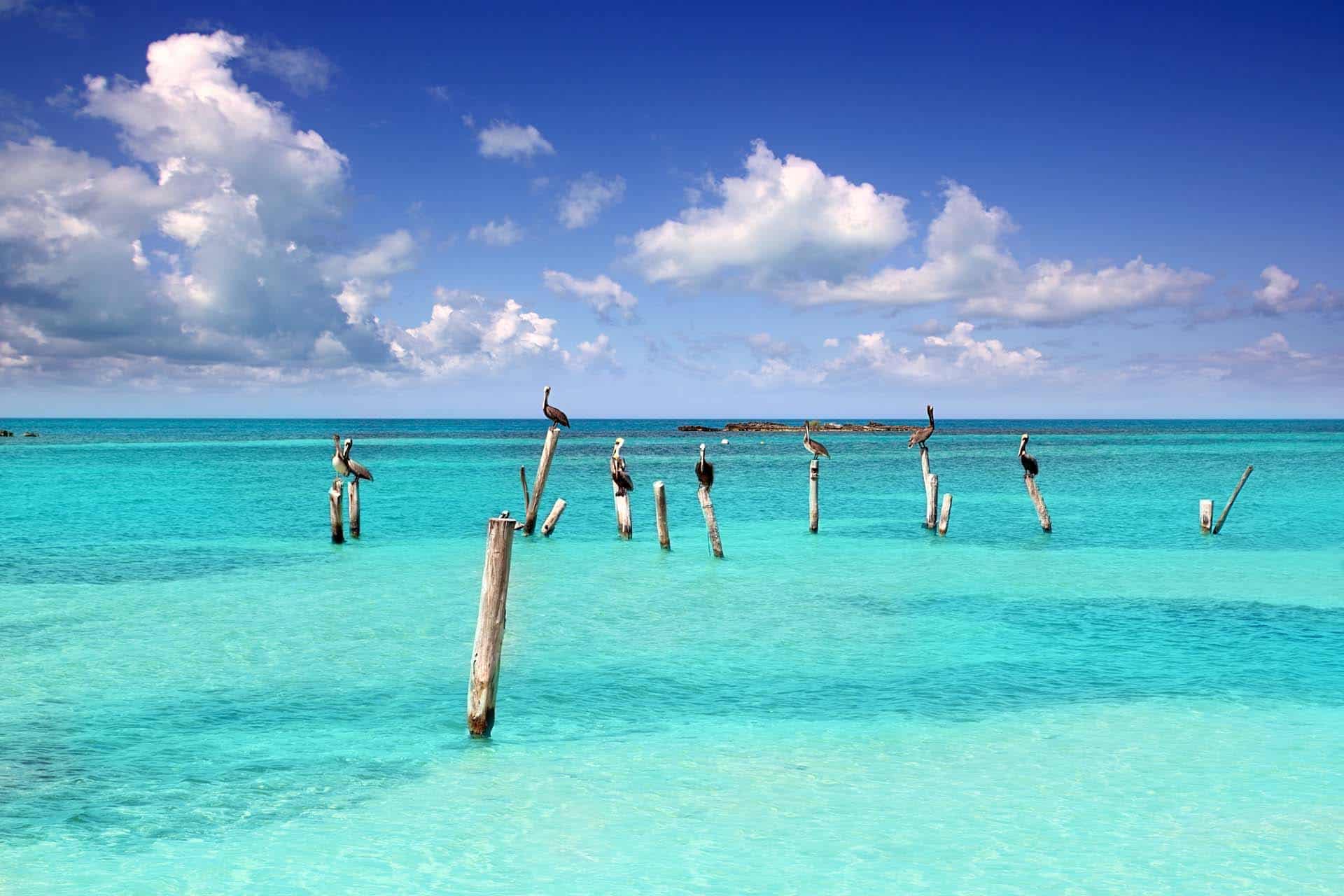 ---
u003cbru003eHow to get to Contoy Island?
Isla Contoy is a national park and as such strictly protected. Only supervised ecotourism with a maximum of 200 visitors per day is permitted. Day trips are offered from the port of Puerto Juarez near Cancun or from Isla Mujeres. Depending on the weather and boat type, the crossing takes 1-2 hours.u003cbru003eu003cbru003eDue to the small number of available places, it is advisable to book a trip to Contoy not only on site, but in good time before departure. If you want to visit the island with your own boat, you should get a permit in advance at the National Park Office on Isla Mujeres or in Cancun.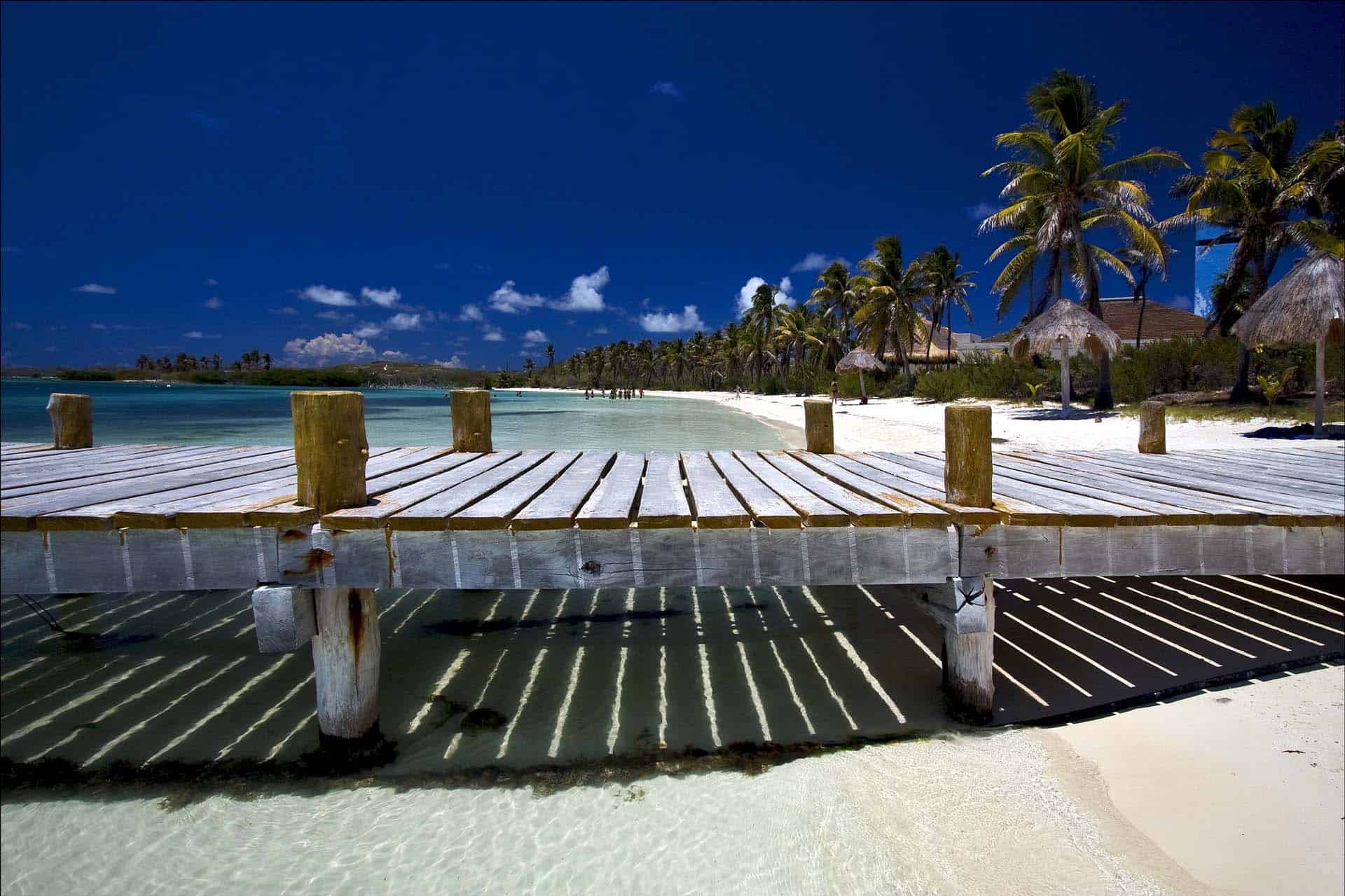 ---
Excursions to Isla Contoy
Overnight stays on Contoy are forbidden. The island can therefore only be visited on day trips. On their way to Isla Contoy, boats can often make a stopover for snorkeling at the Ixlache Reef with its incomparable beauty and countless exotic marine animals.
A team of scientists is permanently stationed on the island itself. Their task is to monitor and study the island's ecosystem. Only a small part of the island is accessible to visitors.
Isla Contoy has some facilities: a small visitor center with a jetty, a museum, a souvenir shop, a resting area with benches and palapas (simple huts), a Barbecue Grill, a 20-metre-high observation tower and two short walks where visitors can get to know the local fauna and flora in a part of the island. An underwater archaeological museum is planned.
Upon arrival on the island, visitors can take a guided tour with one of the local scientists and then try a delicious fish BBQ called Tikin Chic, a specialty of the region, for lunch.
It is also possible to take a small boat for a bird-watching tour to the nesting sites of the birds in the lagoon Puerto Viejo (about 10 USD donation). The revenue from the visitors serves the further financing of the scientific work and preservation of the untouched nature on Isla Contoy.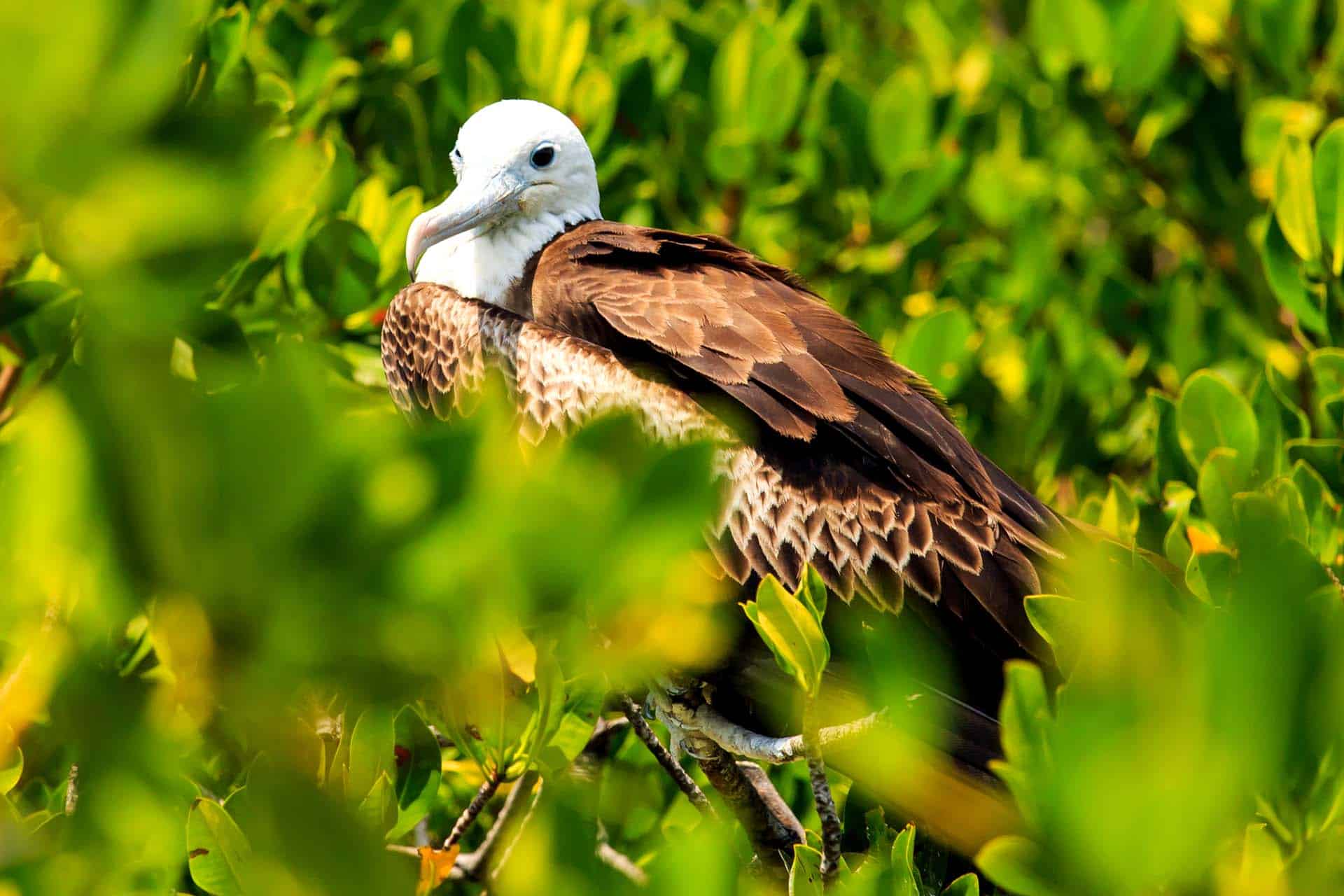 ---